Chancellor Carine M. Feyten and Ambassador Chad Wick give $100,000 to university's new Integrated Health and Well-being Initiative
8/17/15
Gift launches three-year campaign to raise $3 million to support programs that foster students' well being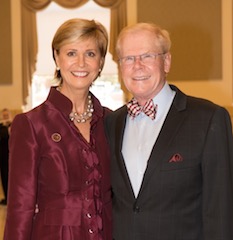 DENTON — Texas Woman's University Chancellor Carine M. Feyten and her husband, university Ambassador Chad Wick, are donating a lead gift of $100,000 to help the university launch a $3 million Integrated Health and Well-being Initiative.
TWU Vice President Heidi L. Tracy announced the donation at the university's fall assembly today (Aug. 17), which welcomed faculty and staff back to campus and coincided with Feyten's first year anniversary leading TWU. Tracy said the gift came after discussions with the chancellor and her husband focusing on TWU as an institution that comprehensively nurtures and educates students' mind, body and spirit.
"Chad and I believe that student success is very much a holistic process," Feyten said. "We know that for our students to fully benefit from the excellent education offered here, they must be well, both physically and mentally."
The goal of the initiative is to build on existing programs that support students – including commuters and foster care alumni – while exploring future collaborations and projects that could enhance the mental and physical well being of students, faculty and staff on all three campuses. In addition, the initiative is intended to capitalize on TWU's long history of high-quality academic programs in nursing, health care, psychology, family sciences and more.
The announcement of the gift also came with a challenge to raise an additional $100,000 in matching funds to go by April 6, 2016, to coincide with World Physical Activity Day.
"Carine and I are blessed to serve an institution that truly cares about the health and well being of all of its students," Wick said. "It is only fitting that we share our blessings for a cause that is near and dear to our hearts. We are confident that this gift will enable the tradition of care at TWU to continue for our students."
---
Media Contact:
Amanda Simpson
Director of Media Relations
940-898-3456
asimpson1@twu.edu
page updated 5/9/2016 4:57 PM