Texas First Lady Cecilia Abbott's Inaugural gown now on display at TWU
5/26/15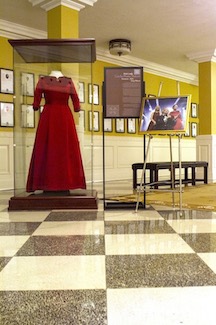 Photo credit: Susan Sponsler-Carstarphen
DENTON — The scarlet red gown worn by Texas First Lady Cecilia Abbott during her husband Gov. Greg Abbott's Inauguration is the latest addition to the Texas First Ladies Historic Costume Collection at Texas Woman's University.
"The Texas First Ladies Historic Costume Collection is truly a gem," First Lady Abbott said. "I am honored that my gown will join those worn by former Texas First Ladies and other notable Texas women as part of the collection. Thank you to Texas Woman's University for your commitment to preserving this part of Texas history."
The gown was made by Austin seamstress Laura Gonzalez. It is a scarlet red, couture ball gown made with peau de soie silk satin. The gown has a fitted bodice with 3/4 length sleeves. The neckline and sleeve cuffs feature a spectacular detail of Spanish guipure lace embellished with Swarovski crystals, various ruby colored beads and enhanced with gold and rhinestone accents. The full skirt has pleats, a slight train and pockets for comfort. The finishing touch is a belt at the waistline with layers of leaves forming a beautiful floral-like bouquet.
"In addition to showcasing strong Texas design talent, I think the addition of the gown is a great opportunity to inspire TWU students as they design each year for the American Heart Association's Go Red for Women annual design competition," said Dr. Sheri Dragoo, TWU professor of fashion and textiles. "It is a wonderful opportunity for TWU to be able to showcase Mrs. Abott's gown and allow fashion students to see the application of beautiful fabrics and workmanship come together in such a notable gown for a special occasion."
The gown currently is on display in the Texas Women's Hall of Fame in Hubbard Hall on the TWU Denton campus. For a map of campus, visit www.twu.edu/maps.asp.
"We are very excited to have this beautiful gown join our amazing collection," TWU Chancellor and President Carine M. Feyten said. "On behalf of the university and the Texas First Ladies Historic Costume Collection, I would like to thank Mrs. Abbott for her generosity in donating the gown to us."
In January 2015, Cecilia Abbott made history by becoming the first Hispanic First Lady of Texas in the history of the state. She has been a teacher, vice-principal and principal at several Catholic schools across Texas, and she has also worked in senior health care services. But Cecilia hasn't only devoted her professional life to helping others; she has done the same in her personal life. She serves on the board of several educational organizations and is a member of numerous philanthropic groups. Cecilia and her husband, Governor Greg Abbott, have been married for 33 years and have one daughter, Audrey.
Abbott's gown joins the more than 40 dresses that are a part of TWU's Texas First Ladies Historic Costume Collection. Currently, 17 of the gowns are on display in the collection exhibit, which is located on the second floor of the Administrative Conference Tower on the crosswalk that connects ACT to Hubbard Hall.
Progressing from the 1800s through industrialization of the 1900s to the modern era, the collection represents how the First Ladies of Texas have become icons of grace and compassion. Each woman leaves her own legacy, but all share common threads that seamlessly stitch together Texas' First Ladies' assorted patchwork of experience. The display changes at various times throughout the year so that a visitor can enjoy different gowns in the Collection with each walk through the hall.
The collection was created by the late Dr. Marion Day Mullins, a noted genealogist, historian and civic leader. It was assembled by the Texas Society of the Daughters of the American Revolution during Dr. Mullins' term as Texas State Regent for the DAR from 1937 to 1940. She presented the collection to TWU on behalf of the DAR in 1940.
For more information about the Texas First Ladies Historic Costume Collection at Texas Woman's University, visit www.twu.edu/gown-collection.
---
Media Contact:
Amanda Simpson
Director of Media Relations
940-898-3456
asimpson1@twu.edu
page updated 5/9/2016 4:57 PM