Faculty partner in almost $5 million federal grant to reduce teen pregnancy in Dallas
9/14/15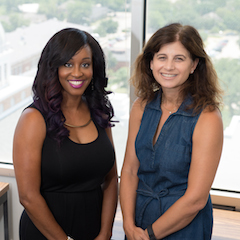 Nila Ricks, left, and Mandy Golman
DENTON/DALLAS – Texas Woman's University faculty members Mandy Golman, Ph.D., and Nila Ricks, Ph.D., are part of a North Texas coalition working to reduce teen pregnancy in Dallas County through a $4.9 million grant ($987,500 a year for five years) from the U.S. Department of Health and Human Services.
Golman, an assistant professor of health studies, and Ricks, an assistant professor of social work, will conduct the needs assessment for the grant in five target ZIP codes in Dallas County. They also will serve as the evaluation partner on the grant, which is being awarded to several members of the North Texas Alliance to Reduce Teen Pregnancy. Joining Golman and Ricks in the partnership are alliance members that include a UT Southwestern Prevention and Intervention Unit, Girls Inc. of Metropolitan Dallas, the Concilio in Dallas and Planned Parenthood of Greater Texas.
Both Golman and Ricks have extensive experience with teen pregnancy assessment and in planning and implementing teen pregnancy prevention programs. Golman has served as a program evaluation partner with other federal grants aimed at preventing teen pregnancy, and has performed extensive research and led projects in this area. Ricks, a former teen parent, has a long history of counseling parenting teens and their families, and has experience implementing teen pregnancy prevention programs in at-risk communities through positive youth development. Ricks also conducts research in teen pregnancy prevention.
"Teenagers can and do make healthy choices when provided the appropriate education, skills and resources," Ricks said. "Being a part of this grant provides me with another opportunity to help impact teen pregnancy rates in at-risk communities."
Golman and Ricks' combined experience, as well as TWU's reputation as a leader in women's health issues, is considered instrumental in the alliance receiving federal grant funding for the project.
"This funding will allow us to work with these communities to first identify and then address the most critical barriers in preventing unintended pregnancy for teens," Golman said. "As my work and research has shown, helping teens prevent an unintended pregnancy is a challenge and a priority that the entire city must embrace."
TWU will conduct a formal needs assessment in Dallas County ZIP codes 75215, 75216, 75203, 75212 and 75220, selected due to their extremely high teen pregnancy rates.
The rates for these five counties are:
• 75215 with 112.9 teen pregnancies per 1,000 girls ages 15-19;
• 75216 with 108.4 teen pregnancies per 1,000 girls ages 15-19;
• 75203 with 96.5 teen pregnancies per 1,000 girls ages 15-19;
• 75212 with 90.4 teen pregnancies per 1,000 girls ages 15-19; and
• 75220 with 84.2 teen pregnancies per 1,000 girls ages 15-19.
"These rates are alarming when compared to the overall Dallas teen birth rate, which already is considered high at 50.5 pregnancies per 1,000 girls [ages 15-19] in the population," Golman said. "Although the national teen pregnancy rate is at an historical low and continues to drop, we need to concentrate our prevention efforts in areas that need it the most."
Ricks added, "Using this federal funding to create a partnership of university researchers, a hospital and health and community organizations should help us identify the issues specific to these neighborhoods and take the appropriate action to reduce teen pregnancies in these Dallas areas."
Nationally, the teen birth rate is 26.5 per 1,000 girls ages 15-19. Texas ranks fifth in the nation with a birth rate of 41 per 1,000, but is first in the nation for repeat births to teens. Dallas ranks first in the state for teenage pregnancy.
The U.S. Department of Health and Human Services Office of Adolescent Health awarded grants to 81 groups in the nation, which is only 19 percent of the 400 applicants. According to the department, these grants are expected to serve more than 291,000 youth each year in communities where teen pregnancy and birth rates remain high.
---
Media Contact:
Amanda Simpson
Director of Media Relations
940-898-3456
asimpson1@twu.edu
page updated 5/9/2016 4:57 PM