Destinee Waiters named general counsel of Texas Woman's University
8/14/14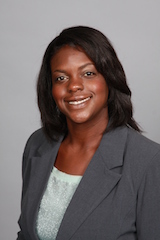 DENTON/DALLAS/HOUSTON — Texas Woman's University has named Destinee Waiters as the university's new general counsel and associate vice president of compliance. She began her duties at TWU Aug. 1, 2014.
"I am thankful for the opportunity to serve Texas Woman's University. This is an opportunity of a lifetime," Ms. Waiters said. "Additionally, the warm welcome and kindness of the administration, faculty and staff during these first few days has been tremendous."
Previously, Ms. Waiters served as the acting general counsel and associate general counsel for the Houston Community College (HCC) System, which has approximately 6,000 employees and 60,000 students located on 27 campuses. Her work at HCC included general legal advising and counseling services, employee and manager-focused training, policy drafting and advising, litigation management and public information response management.

Ms. Waiters has led successful negotiations with various federal and state regulatory agencies resulting in systemwide process improvements and compliance. She helped spearhead the growth in the system's Business Contiguity Plan and also helped advance several significant diversity policies within HCC, including its Diversity and Inclusion Council.

In addition, Ms. Waiters has served as an employment law panelist for the National Hispanic Bar Association. Her numerous community service activities include serving on the board of Best Buddies of Texas, the Houston Bar Association's Lawyers Against Waste Committee and the Houston Young Lawyers Association's R U Safe Committee. She also is a member and volunteer for the National Association of Community College and University Attorneys.

Ms. Waiters graduated from the University of Texas in San Antonio and received her law degree with honors from the Thurgood Marshall School of Law at Texas Southern University. She replaces John Lawhon, who served as TWU's first-ever general counsel for more than 35 years before retiring from the university in 2013.
---
Media Contact:
Amanda Simpson
Director of Media Relations
940-898-3456
asimpson1@twu.edu
page updated 5/9/2016 4:58 PM