TWU Chancellor Ann Stuart to be inducted into Texas Women's Hall of Fame
5/6/14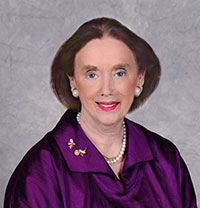 DENTON/DALLAS/HOUSTON — Dr. Ann Stuart, chancellor and president of Texas Woman's University, will be inducted into the Texas Women's Hall of Fame today in Austin.
The ceremony, hosted by Gov. Rick Perry, is scheduled at 3 p.m. in the Senate Chamber of the Texas State Capitol Building. A reception for the inductees and their invited guests will follow in the Governor's Mansion.
The Texas Women's Hall of Fame honors women who have made significant contributions in areas such as the arts, athletics, business, education, health and leadership.
Dr. Ann Stuart was named chancellor and president of Texas Woman's University in 1999. Under her leadership, enrollment has grown by more than 80 percent, TWU has produced more than 20,000 graduates in critical fields, and the university has received national recognition for its quality, value and diversity.
Chancellor Stuart also led the construction of new facilities that position TWU at the forefront of workplace development. The TWU Institute of Health Sciences-Houston Center, located in the renowned Texas Medical Center, was built at no cost to the state. The TWU T. Boone Pickens Institute of Health Sciences-Dallas Center brings together health care programs previously located at separate sites into one location, enabling TWU to emphasize the team approach to patient care. The Ann Stuart Science Complex in Denton, which doubled the university's science laboratory and classroom space, is helping meet the state's need for skilled professionals in the all-important science, technology, engineering and mathematics fields.
Chancellor Stuart will retire in June. Through her vision, innovation and leadership, she leaves TWU well positioned to meet the challenges and expectations of the future. She has ensured that the university will remain as vital and relevant in the decades to come as it has for more than 100 years. That is her greatest gift – her lasting legacy – to Texas Woman's University and to the citizens of Texas.
---
Media Contact:
Amanda Simpson
Director of Media Relations
940-898-3456
asimpson1@twu.edu
page updated 5/9/2016 4:58 PM