TWU's Stewart named PDK Emerging Leader
1/17/14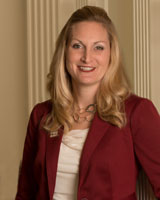 DENTON — Dr. Mandy Stewart, assistant professor of bilingual and English as a Second Language education at Texas Woman's University, is one of only 26 educators in the United States selected for PDK (Phi Delta Kappa) International's 2013-14 Class of Emerging Leaders.
PDK International is a professional association for educators. The PDK Emerging Leader program recognizes educators who make invaluable commitments to the field of education. A committee of past Emerging Leaders selected this year's class from a competitive field of applicants.
"This recognition means they (PDK) believe my career will have an impact on education," Dr. Stewart said. "I feel so invigorated and inspired to make a difference and to effect change."
One change she would like to see is a better understanding of immigrant students who possess many 21st century skills that are ignored in the classroom. In conducting research for her doctoral dissertation, she found that many bilingual students are learning more English outside of school – through social media, movies, music, etc. – than in the classroom.
"Classroom instruction often is based on what's on the state tests, which is not helping these students learn English or develop critical-thinking skills," Dr. Stewart said.
Schools should encourage bilingual skills in all students of all language backgrounds and ages, as these skills will be needed for the United States to be globally competitive, she said. She is raising her own children – ages 3 and 6 – to be bilingual.
Dr. Stewart received the 2013 PDK Outstanding Dissertation Award for her research on adolescent English learners. She recently received university and external grants to continue her research at North Texas high schools.
PDK International represents nearly 30,000 professionals in K-12 education across the country. For more information, visit www.pdkintl.org.
page updated 5/9/2016 4:58 PM