TWU to conduct spring commencement May 9-11, 2014
4/28/14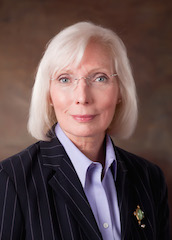 Sue S. Bancroft
DENTON/DALLAS/HOUSTON — The Spring 2014 semester at Texas Woman's University will draw to a close with commencement ceremonies scheduled Friday and Saturday, May 9 and 10 on TWU's Denton campus, and Sunday, May 11 in Houston.
The Denton ceremony includes candidates from TWU's Dallas Center. Approximately 1,585 degrees will be awarded during the Denton ceremonies. Approximately 206 degrees will be awarded in the Houston ceremony, bringing the total number of degrees to be awarded this spring to 1,791.
Sue S. Bancroft, chair and presiding officer of the TWU Board of Regents, will deliver the commencement address at each of the six ceremonies.
Students and family members who have tickets are invited to attend the Denton ceremonies, which will take place in the Kitty Magee Arena in Pioneer Hall, located on Bell Avenue. Receptions hosted by TWU Chancellor Ann Stuart will follow each ceremony on the second floor of the Student Union, located on the southwest corner of Bell Avenue and Administration Drive.
Commencement ceremonies scheduled Friday, May 9 are at 9 a.m., 1 p.m. and 4 p.m. Ceremonies scheduled Saturday, May 10, are at 9 a.m. and 1 p.m.
Times for commencement reflect candidate assignments based on specific schools and colleges participating in the ceremonies. For more information, visit www.twu.edu/registrar/graduation-info.asp
The Houston ceremony will be held at 2 p.m. Sunday, May 11 at the Rice University Tudor Fieldhouse, 6100 Main St. Tickets are not needed for the Houston ceremony. For more information, visit www.twu.edu/houston/6921.asp
page updated 5/9/2016 4:58 PM