TWU's Scott-Tilley appointed to Texas Task Force on Domestic Violence
2/14/14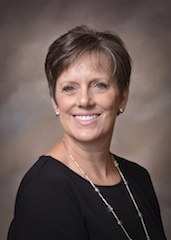 Photo credit: Ronda DuTeil
DENTON — Dr. Donna Scott-Tilley, associate professor and interim associate nursing dean at Texas Woman's University, recently was appointed to the Texas Health and Human Services Commission's Task Force on Domestic Violence.
The task force was created by House Bill 2620 during the 2013 Texas Legislature to examine the effect of domestic violence on the health of mothers and children and determine ways to improve health services for domestic violence victims.
"We have an essential duty as educators to serve the state at the highest level," said Scott-Tilley, RN, Ph.D. "Serving on this committee also allows me to make an impact on the issue of domestic abuse and neglect, which also is my research focus area."
Dr. Scott-Tilley of Colleyville is a past board member of Hospice of Lubbock and Women's Protective Services, and is a member of the Texas Nurses Association and Southern Nursing Research Society. She received a bachelor's and master's degree from the Texas Tech University Health Sciences Center and a doctorate in nursing from the University of Texas Health Science Center at San Antonio.
For more information on the Task Force on Domestic Violence, visit www.hhsc.state.tx.us/about_hhsc/AdvisoryCommittees/tfdv/.
---
Media Contact:
Amanda Simpson
Director of Media Relations
940-898-3456
asimpson1@twu.edu
page updated 5/9/2016 4:58 PM