TWU's Phi Kappa Phi recognized as 2014 Chapter of Excellence
12/15/14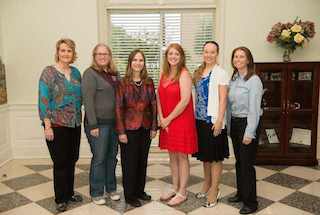 Photo credit: Shannon Drawe
Shown are, from left: TWU Phi Kappa Phi Chapter Secretary Kim Taylor, Chapter President Heather Davis, Chapter President-Elect Leslie Koberna, and Student Vice Presidents Shelby McDuffie, Jenna Easterling and Jamie Jones.
DENTON — For the third consecutive year, the Honor Society of Phi Kappa Phi has named the Texas Woman's University chapter as one of 29 Chapters of Excellence in the U.S.
According to the society, the Chapter of Excellence award is given to only a few chapters that comply with the society's national standards and demonstrate an active commitment to excellence. The society has more than 300 chapters at colleges and universities in the U.S.
By receiving the Chapter of Excellence distinction, TWU's Phi Kappa Phi chapter is being recognized as a thriving organization that meets frequently, holds annual initiations and applies often for Phi Kappa Phi's select scholarships, grants and fellowships.
"This speaks to the exceptional dedication of our faculty and staff officers and their commitment to building a strong chapter to support our faculty, staff, student and alumni members, as well as our institution and the greater communities in which we work and live throughout the state of Texas," said TWU Chapter President Heather E. Davis, business systems analyst for the university.
In recent years, several TWU members have received the prestigious Phi Kappa Phi graduate fellowship, including Sarah Adams in 2012, Rae Lynn McFarlin in 2010, Rachel Zimmerman in 2009 and Shaina Porter in 2006. TWU students also have received the organization's Award of Excellence scholarship.
Chapters achieving the Chapter of Excellence distinction receive:
• a $500 award to use for student scholarships;
• a commendation letter from the society sent to chapter officers and campus administrators;
• a special recognition on the society's website and publications;
• a specially designed logo for use in chapter communications; and
• recognition advertisements in local media and educational journals.
The TWU chapter also was named a Chapter of Excellence in 2013 and 2012 and a Chapter of Merit in 2011, 2010 and 2009.
The Honor Society of Phi Kappa Phi is the nation's oldest, largest and most selective all-discipline honor society. For more information, visit www.PhiKappaPhi.org.
---
Media Contact:
Amanda Simpson
Director of Media Relations
940-898-3456
asimpson1@twu.edu
page updated 5/9/2016 4:58 PM