TWU's Houston Center to present 2014 Parry Distinguished Lectureship
1/30/14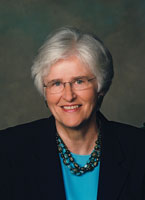 Dr. Linda Cronenwett
HOUSTON — Maintaining quality health care in changing times is the focus as Texas Woman's University presents the Parry Distinguished Lectureship on Friday, March 7 at the TWU Institute of Health Sciences Center-Houston.
The presentation, titled "Skills to Sustain Quality Health Care In a Time of Transition," is scheduled from 9 a.m. to noon in the Houston Endowment Auditorium located at TWU's Houston Center, 6700 Fannin St. in the Texas Medical Center. Registration and continuing education units are complimentary. For more information or to register, call (713) 794-2100 or email TWUNursingHouston@twu.edu.
Additionally, A Call for Research Posters is issued. Those interested in displaying a research poster should submit their name, credentials and title of the poster to Dr. Judith McFarlane at jmcfarlane@twu.edu by Feb. 28.
The featured speaker for the event is Dr. Linda Cronenwett, Ph.D., RN, FAAN, co-director of the Robert Wood Johnson Foundation's Executive Nurse Fellows program and professor and former dean of the School of Nursing, University of North Carolina at Chapel Hill. In 2012, Dr. Cronenwett completed seven years as principal investigator of Quality and Safety Education for Nurses, a national initiative with four phases of funding from the Robert Wood Johnson Foundation. For almost two decades, Dr. Cronenwett has led national initiatives to improve nurses' competencies in contributing to the quality and safety of health care.
In her presentation, Dr. Cronenwett will partner with the audience to describe the current state gaps and challenges and discuss potential strategies for increasing energy and joy in the much-needed work to sustainably improve health care.
The annual Parry Distinguished Lectureship is a collaborative endeavor of the Parry Endowment, TWU Houston's Nelda C. Stark College of Nursing and Sigma Theta Tau International, Beta Beta Houston.
TWU has applied for CNE Type 1 contact hours from the Texas Nursing Association (TNA) for the event. The TNA is an accredited approver of continuing nursing education by the American Nurses Credentialing Center's Commission on Accreditation.
For more information about the Parry Distinguished Lecture, visit www.twu.edu/nursing.
page updated 5/9/2016 4:58 PM