TWU's Martin recognized for contributions to graduate education
5/2/14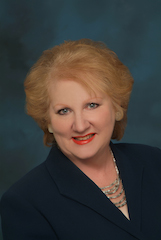 Dr. Jennifer Martin
DENTON — Dr. Jennifer Martin, senior associate provost at Texas Woman's University, recently received the Award for Outstanding Contributions to Graduate Education from the Conference of Southern Graduate Schools (CSGS).
The peer-nominated award recognizes one whose contributions have significantly benefited graduate education in the Southern Region of the United States.
"I am extremely honored and humbled to receive this award," Dr. Martin said. "I have admired the contributions to graduate education by those whom I have seen win this award previously, and it truly is an honor to be considered among them."
Dr. Larry LeFlore, who succeeded Dr. Martin as dean of the TWU Graduate School, nominated her for the award.
"I have had the opportunity to work directly with her on graduate education matters for the last eight years," he wrote in the nomination materials. "In that time, I have observed her to be most effective in developing graduate policies and procedures and in advocating for graduate education in many arenas — on the TWU campus, with the TWU Board of Regents, with the Texas Higher Education Coordinating Board (THECB) and with the Texas State Legislature."
Dr. Martin currently serves as chair of the THECB Graduate Education Advisory Committee, which advises the Coordinating Board on current issues relating to graduate education at Texas public universities. She led the committee's SWOT (strengths, weaknesses, opportunities and threats) analysis as part of developing the 2009 strategic plan for graduate education in Texas.
Dr. Martin also has served as lead dean for the Federation of North Texas Area Universities – a consortium of Texas A&M University-Commerce, TWU and the University of North Texas – from 2004-2006 and 2010-2012. She served four terms as secretary/treasurer of the Association of Texas Graduate Schools (ATGS), and has been active on the Conference of Southern Graduate Schools (CSGS). She is a regular presenter at the annual meetings of both the CSGS and the national Council of Graduate Schools (CGS).
Dr. Martin received her bachelor's and master's degrees in home economics from Lamar University, and holds a Ph.D. in consumer sciences from TWU. She is a former professor and chair of the TWU family sciences department, and served as dean of the university's graduate school from 2002-2008. She was vice provost of TWU and dean of the graduate school from 2009-2012.
"Teaching and administration in higher education have been particularly fulfilling because they have given me the opportunity to collaborate with wonderful faculty and staff colleagues to positively impact the lives of students," Dr. Martin said. "At the graduate level, where I have focused my efforts for many years, our graduates develop the expertise and thinking skills that allow them to lead in their fields to the benefit of us all. Those individual successes and collective results are my main reason for working in higher education — and at TWU."
The Conference of Southern Graduate Schools is an organization of more than 200 graduate schools in 15 southern states. The purpose of the Conference is to consider topics relating to graduate study and research that are of mutual interest and concern to the member institutions. For more information, visit www.csgs.org.
page updated 5/9/2016 4:58 PM