First male elected as Texas Woman's University student body president
5/1/14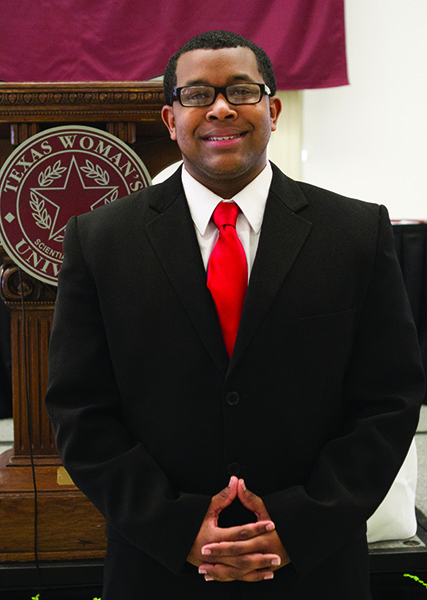 Photo credit: Melissa Carr
DENTON — For the first time in its 113-year history, the student body of Texas Woman's University – the nation's largest university primarily for women – has elected a male president of its Student Government Association (SGA).
Landon Dickerson, 21, a junior biology/pre-med major from Houston, was elected SGA president for TWU's main campus in Denton during elections held at the university March 31-April 3.
Mr. Dickerson, who was not even aware he was the first male elected SGA president until after the election, said, "Being the first male elected never even entered my mind. I wanted to be SGA president because I have a heart for people and a need to serve."
Mr. Dickerson has been involved with the TWU student government for two years. In his term as executive treasurer of the TWU Student Senate, he presented to the university's Student Service Fee Allocation Board.
"My experience at TWU has been a turning point in developing my leadership capabilities," he said. "I ran for SGA president to make a difference. I feel that I am the right person to address the students' needs with the administration and ensure our voices are heard as a new chancellor and president arrives at TWU."
Mr. Dickerson graduated from the KIPP Houston High School in 2011 and transferred to TWU from Xavier University of Louisiana in 2012.
In addition to his student government service, he is a member of the university's Multicultural Student Network and a TWU Pioneer Ambassador for prospective students.
"I inform potential students – including men – that TWU prepares you for the real world by allowing you to work with people very different from yourself. As a male student, you get to see what it is like to be a minority and still succeed."
Although Mr. Dickerson is the first male elected as the TWU SGA president, he is not the first male to serve in that position. Russell Mariott was appointed to complete the SGA president term for the spring 2005 semester.
###
Founded in 1901, TWU is a public university with an enrollment of approximately 15,000 students on campuses in Denton, Dallas, and Houston. TWU offers more than 140 undergraduate, masters and doctoral degree programs in the liberal arts, nursing, health sciences, business, the sciences, and education.
---
Media Contact:
Amanda Simpson
Director of Media Relations
940-898-3456
asimpson1@twu.edu
page updated 5/9/2016 4:58 PM