TWU's Krause selected as USDA E. Kika De La Garza Fellow
7/10/14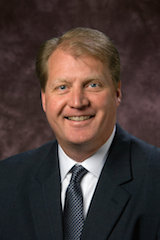 DENTON — The U.S. Department of Agriculture's (USDA) Hispanic-Serving Institutions National Program Office recently announced its 2014 class of E. Kika De La Garza Fellows, which included Kurt Krause, coordinator of internships and experiential learning at Texas Woman's University.
Mr. Krause was one of 15 fellows chosen for the prestigious program, which invites highly accomplished staff and faculty at Hispanic-Serving Institutions from across the nation to spend almost three weeks in Washington, D.C., in June and July. While there, the De La Garza Fellows increase their understanding of the USDA and other federal agencies, particularly at the national level.
Fellows are selected based on the compatibility of their interests with USDA mission areas, as well as the value their experiences will add to their institutions' educational capacities.
Mr. Krause said he was grateful for his experience as a De La Garza Fellow.
"It was apparent early on in the fellowship that I was part of something really special. We were able to meet with many of the key people within the USDA, including USDA Secretary Tom Vilsack," he said.
Mr. Krause also met with several other federal departments, including the departments of Health and Human Services, Labor, Education, Housing and Urban Development, Interior, as well as the National Institutes of Health.
Because of his experience as a fellow, Mr. Krause believes he has a much better understanding of how he can help TWU students connect with internships at federal agencies.
"Obtaining an internship in Washington, D.C., or elsewhere around the country opens the door for students to have a promising career within the federal government," he said.
Hispanic-Serving Institutions are accredited and degree-granting institutions of higher education with a full-time Hispanic student enrollment of 25 percent or more. For details about the USDA Hispanic-Serving Institutions Fellowship program, visit www.hsi.usda.gov/HSIs/fellowship.htm.
---
Media Contact:
Amanda Simpson
Director of Media Relations
940-898-3456
asimpson1@twu.edu
page updated 5/9/2016 4:58 PM