TWU's Jeng honored for contribution to library/information science education
1/31/14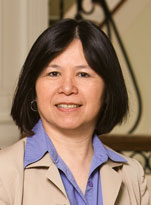 DENTON — Dr. Ling Hwey Jeng, director of the Texas Woman's University School of Library and Information Studies, recently was honored by the Association for Library and Information Science Education (ALISE) with its 2014 Award for Professional Contribution to Library and Information Science Education.
The award was presented Jan. 23 at the ALISE Annual Conference in Philadelphia.
Criteria for the award include contributions that promote and enhance the status of library/information science education and evidence of leadership and initiative in dealing with issues related to library/information science education.
Dr. Jeng, who attended her first ALISE conference in 1987 as a doctoral student, said, "Over the years, ALISE has been there to provide a platform for people like the doctoral student I was and the library and information science program administrator I am today.
"I am honored to receive this award, and I will continue to contribute to the education for a profession that I love."
Dr. Jeng began her career in library science 37 years ago in Taiwan as an intern librarian and later served as a reference librarian at the National Tsing-Hua University Library. She moved to the United States to pursue graduate degrees in library and information science, earning both her master's (1983) and her Ph.D. in 1987 from the University of Texas at Austin.
She served as president of the Chinese American Librarians Association (CALA) from 1999 through 2000 and received the organization's Distinguished Service Award in 2010.
In addition to ALISE, Dr. Jeng has served in the Asian Pacific American Library Association (APALA), the Association for Information Science and Technology (ASIS&T), the Texas Library Association (TLA) and the American Library Association (ALA). Throughout her career, she has published 47 scholarly articles, made 135 presentations and served on 97 different committees at all levels.
"I am involved in many things because they match my areas of scholarly interest," Dr. Jeng said. "However, there are many more that I do as payback for what others have done for me, or as opportunities for me to make a difference. Those are the ones I have found most rewarding."
For more information on the Association for Library and Information Science Education, visit www.alise.org.
page updated 5/9/2016 4:58 PM