Texas Woman's University celebrates Inauguration of Carine M. Feyten as the university's eleventh president and second chancellor Nov. 10, 2014 at 2 p.m.
11/10/14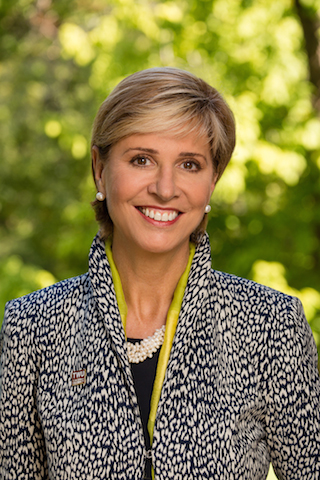 DENTON— Texas Woman's University will celebrate the investiture of Carine M. Feyten, Ph.D., as its eleventh president and second chancellor Monday, Nov. 10 in a ceremony that honors both the university's traditions and the pioneering spirit that will take TWU to an even stronger future.
The formal ceremony will begin with a procession of faculty, staff, students and honored guests down Redbud Lane to the Margo Jones Performance Hall for the 2 p.m. ceremony. Sue Bancroft, chair and presiding officer of the TWU Board of Regents, will welcome guests including U.S. Congressman Michael C. Burgess, M.D., (R-Flower Mound), State Rep. Myra Crownover (R-Denton), Denton Mayor Chris Watts and delegates from universities throughout the nation and state.
Dr. Feyten will present her inaugural address, "Moving Beyond the Inflection Point: Pioneers for a New Era," which expresses the optimism and determination of the university to reach even greater heights of achievement.
A community-wide reception will take place on Pioneer Circle following the ceremony.
The ceremony will be preceded at 10 a.m. by campus tours led by TWU Student Ambassadors. Guests may choose a historical tour or an academic highlights that includes faculty.
The inauguration, reception and campus tours are open to the public.
A luncheon for invited guests will feature a keynote address by Dr. Renu Khator, chancellor and president of the University of Houston, one of the only other female university chancellors in the state.
Inaugural events will be held on TWU's Dallas and Houston campuses in January.
Dr. Feyten became chancellor and president of TWU – the nation's largest university primarily for women – in July 2014. She oversees a university with an annual operating budget that exceeds $236 million, serves approximately 15,000 students on campuses in Denton, Dallas and Houston, employs almost 1,700 faculty and staff, and has an annual economic impact of more than $721 million.
A native of Belgium, Dr. Feyten hold a Ph.D. in Interdisciplinary Education, Second Language Acquisition from the University of South Florida, and an M.A. in English, Dutch, Education and a B.A. in Germanic Philology, both from the Université Catholique de Louvain in Belgium. An internationally recognized consultant, speaker and scholar in the field of language learning, teaching methodologies and the integration of technology in education, Dr. Feyten has authored or co-authored more than 100 journal articles, conference papers and book chapters. She previously served as dean of the College of Education, Health and Society at Miami University in Oxford, Ohio.
---
Media Contact:
Amanda Simpson
Director of Media Relations
940-898-3456
asimpson1@twu.edu
page updated 5/9/2016 4:58 PM