TWU's Gleeson and Thompson receive national PT award
7/15/14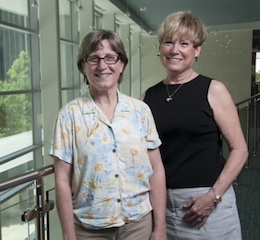 Drs. Mary Thompson and Peggy Gleeson

HOUSTON/DALLAS — Dr. Peggy Gleeson, associate director of the TWU School of Physical Therapy, Houston, and Dr. Mary Thompson, physical therapy professor, Dallas, each have received the Lucy Blair Service Award from the American Physical Therapy Association (APTA).
The award honors members whose contributions have been of exceptional value.
Dr. Gleeson is completing four years of service as president of the Education Section of the APTA. She has served that section in various capacities for a total of 12 years.
Dr. Thompson received the award for her work with the Academy of Geriatric Physical Therapy (formerly the Section on Geriatrics), American Board of PT Specialties and the American Board of Physical Therapy Residencies and Fellowship Education. Dr. Thompson recently completed a three-year term on the board of directors for the academy, and has served in numerous other roles in the academy for many years.
---
Media Contact:
Amanda Simpson
Director of Media Relations
940-898-3456
asimpson1@twu.edu
page updated 5/9/2016 4:58 PM