TWU's Dello Stritto named a Fellow of the American Association of Nurse Practitioners
9/4/14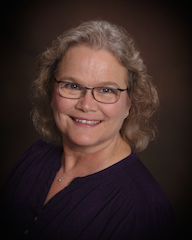 HOUSTON — Texas Woman's University associate nursing professor Rita A. Dello Stritto, Ph.D., RN, CNS, ENP, ACNP-BC, recently was selected as a Fellow of the American Association of Nurse Practitioners (AANP).
Dr. Dello Stritto, who was one of 76 nurse practitioner leaders in the nation selected for the prestigious national Fellow program, was inducted during the AANP National Conference held in Nashville in June.

"It is a great honor to be recognized by my peers as an expert clinician and educator," Dr. Dell Stritto said. "I strive to deliver excellent health care and to educate the next generation of nurses and nurse practitioners. Being named a Fellow in the American Association of Nurse Practitioners is the highlight of my career."
Dr. Dello Stritto is clinician, educator, mentor, researcher and a veteran of the United States Air Force. She was one of the first graduates of the Emergency Nurse Practitioner Programs at the University of Texas Health Science Center, Houston, in 1995. She is a board certified acute care nurse practitioner and has clinical expertise in several rural, medically underserved emergency departments in Texas. After receiving her Ph.D. from TWU, she developed and is the track manager of the TWU Acute Care Nurse Practitioner Program. Dr. Dello Stritto is frequently sought after as a presenter/lecture at various professional education conferences. She teaches at the Nelda C. Stark College of Nursing in the TWU Institute of Health Sciences-Houston Center, which is located in the Texas Medical Center.

The AANP established its Fellow program in 2000 to recognize nurse practitioner leaders who have made outstanding contributions to health care through clinical practice, research, education or policy. For more information, visit www.aanp.org/fellows-program.
---
Media Contact:
Amanda Simpson
Director of Media Relations
940-898-3456
asimpson1@twu.edu
page updated 5/9/2016 4:58 PM