TWU presents Celebration of Science on March 28, 2014
2/28/14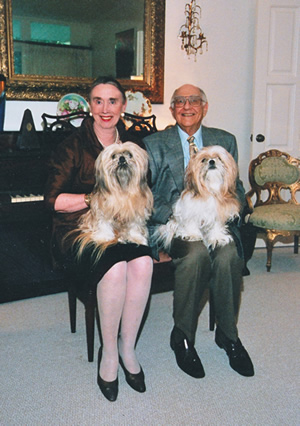 Photo credit: Ronda DuTeil

Cutline: TWU Chancellor Ann Stuart, her late husband Ray Poliakoff and their dogs Georgette and Honeybear.
DENTON — Texas Woman's University's third annual Ann Stuart and Ray R. Poliakoff Celebration of Science will take place Friday, March 28 on TWU's Denton campus.
Featured speakers for the event, which celebrates "Women in Science," are Cynthia Burrows, Ph.D., Distinguished Professor and Thatcher Presidential Endowed Chair of Biological Chemistry at the University of Utah; Jennifer Leeds, Ph.D., executive director of Antibacterial Discovery, Infectious Diseases Area, at Novartis Institutes for Biomedical Research in Emeryville, Calif.; and Madeline Shea, Ph.D., professor of biochemistry at Carver College of Medicine at the University of Iowa.
The daylong event includes an interactive forum with students titled "Science for the Future: Problems and Major Challenges;" a luncheon with the speakers and TWU students; a symposium titled "Women in Science: Research at the Interface of Biology and Chemistry;" and a reception. Most activities will take place in the Ann Stuart Science Complex.
During the afternoon symposium, Dr. Burrows will present "Examining DNA Damage in a Yoctoliter Measuring Cup." Dr. Leeds will present "Discovery of LFF571 as an Investigational Agent for C. difficile Infection." Dr. Shea's presentation is titled "Calcium-Triggered Conformational Switching of Calmodulin on Voltage-Dependent Sodium Channels."
TWU Chancellor Ann Stuart established the Ann Stuart and Ray R. Poliakoff Celebration of Science Series in 2011 with a $200,000 gift to the university. Through a commitment of two decades of funding, the Celebration of Science Series intends to provide the opportunity for the Departments of Biology and Chemistry/Biochemistry to develop a sustained program of promoting and celebrating the wonders, truths and mysteries of science.
The Celebration of Science Series will continue annually through 2032. Although events will vary from year to year, the intent always will be to engage current TWU students and faculty, alumni, K-12 students in Denton and others in the community.
Both Dr. Ann Stuart and Mr. Ray Poliakoff, wife and husband, were first-generation graduates of public higher education, and both often said it was their education that enabled them to pursue the opportunities that enriched their lives.
Dr. Stuart, a professor of English, loved the quest of learning, the pleasure of reading, and her career in education both as a teacher and as an administrator.
Mr. Poliakoff served in a reconnaissance intelligence unit in Europe during World War II and was twice wounded in combat. After the war, he graduated from law school and spent the majority of his professional career working with various national and international concerns and individuals in coal, oil, gas, and other natural resource ventures and concessions in the U.S., Alaska, Canada, Europe, Australia, the Mid-East and the Far East.
They both gave generously to create opportunities for young people to pursue their goals.
page updated 5/9/2016 4:58 PM