Texas Woman's University names Dr. Carine M. Feyten sole finalist candidate for chancellor and president
3/28/14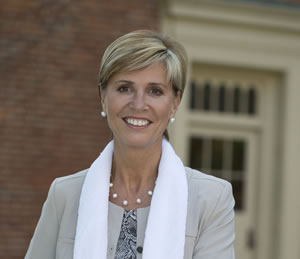 Dr. Carine M. Feyten
DENTON/DALLAS/HOUSTON — The Texas Woman's University Board of Regents today named Carine M. Feyten, Ph.D., the sole finalist candidate for chancellor and president of the university. Dr. Feyten currently is the dean of the College of Education, Health and Society at Miami University in Oxford, Ohio.
TWU Regent George Schrader, who led the national search for a new chancellor and president, said, "Texas Woman's University needs a leader with vision, energy and a sense of purpose to meet the opportunities and challenges the university will face in the future. I was impressed with Dr. Feyten's focus on the future of education, what students need to know to become workforce ready and how to teach them. She thinks globally and has an international perspective."
The regents' naming of Dr. Feyten as the sole finalist candidate begins the minimum 21-day period required by Texas law before she can be appointed chancellor and president of TWU, the nation's largest university primarily for women.
TWU Board of Regents Chair Sue Schrier Bancroft said, "Dr. Feyten's impressive record of scholarship, research and administrative leadership will make her a strong champion of the university."
"TWU's unique position in higher education in Texas demands a chancellor and president who can advance the university to even greater heights," Mrs. Bancroft said. "I am confident Dr. Feyten is the leader who will do this. I look forward to working with her."
Dr. Feyten will visit TWU's three campuses April 8 and 9 to meet with students, faculty and staff. She will spend Tuesday, April 8 on the Denton campus and will travel to the TWU Institutes of Health Sciences in Dallas and Houston on Wednesday, April 9.
In receiving this news, Dr. Feyten said, "I am deeply honored to have been selected as the finalist candidate for a university that has had such dynamic growth and extraordinary leadership. I was particularly attracted by TWU's commitment to diversity, women, and student success as well as the outstanding reputation of its faculty. I look forward to meeting faculty, staff and students in the coming weeks to gain their insights into what has made TWU the great university it is and to listen to their future aspirations. Lastly, to have this opportunity in Texas is, for me, truly inspiring!"
Dr. Feyten has been dean of the College of Education, Health and Society at Miami University since 2006. The university has an enrollment of 17,550 students on its main campus and a total of 23,390 students over three campuses. The college of EHS includes 65 undergraduate, master's and doctoral programs, an enrollment close to 3,000 students (graduate and undergraduate) on the main campus, 197 faculty and a total revenue budget of $43 million, excluding external grants, gifts and endowments.
Her many accomplishments as dean include:
• Developing and launching a strategic plan focused on a holistic and sustainable approach to all aspects of administrative, faculty and student well-being;
• Leading a capital campaign that has raised more than $27 million, well above its goal of $15 million;
• Increasing enrollment and retention rates in the college, resulting in 90 percent retention from freshman to sophomore;
• Attaining a college graduation rate of 83 percent, the highest on campus;
• Significantly increasing external grant funding obtained by the college, including a $1.5 million grant as the principal investigator;
• Establishing strong relationships with the Ohio Governor's Office and officials at the state level; and
• Leading multiple successful accreditation efforts.
Dr. Feyten's research interests include listening, language learning/teaching methodologies and the integration of technology in education. She has authored or co-authored more than 100 journal articles, conference papers and book chapters, and is an internationally recognized consultant and speaker.
She has held national offices in her field and won many awards, including the Florence Steiner Award for Leadership in Foreign Language Education-Postsecondary from the American Council on the Teaching of Foreign Languages.
Prior to being named a dean at Miami University, Dr. Feyten served as associate dean of academic affairs in the College of Education at the University of South Florida in Tampa. She also has taught undergraduate, master's and doctoral-level courses in foreign language education, second language acquisition, applied linguistics and TESOL (Teaching English to Speakers of Other Languages). She has been recognized internationally, nationally and at the regional and statewide levels for her leadership, teaching and research.
Dr. Feyten holds a Ph.D. in Interdisciplinary Education, Second Language Acquisition from the University of South Florida, and an M.A. in English, Dutch, Education and a B.A. in Germanic Philology, both from the Université Catholique Louvain in Belgium. A native of Belgium, she is fluent in five languages.
If confirmed by the TWU Board of Regents, Dr. Feyten will become TWU's second chancellor and 11th president. She will succeed Dr. Ann Stuart, who is retiring in May after 14 years as chancellor and president.
---
Media Contact:
Amanda Simpson
Director of Media Relations
940-898-3456
asimpson1@twu.edu
page updated 5/9/2016 4:58 PM