Endowed scholarship honors TWU's Phyllis Bridges
5/30/14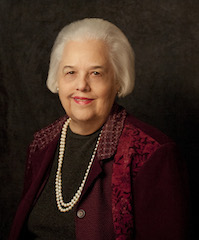 Dr. Phyllis Bridges
DENTON— Friends and former students of Dr. Phyllis Bridges, Cornaro Professor of English at Texas Woman's University, have established a scholarship in honor of the longtime TWU educator.
In a letter announcing the fund-raising effort, committee co-chairs Dr. Carolyn Rozier, dean of the TWU School of Physical Therapy emerita, and Dr. Glenda Brock Simmons, vice president for student life emerita, lauded Dr. Bridges' 50-year teaching career, including 42 years at TWU.
"Her inspired teaching … has touched and changed many lives," the letter states. "It is time for all of us who know her to show our appreciation for all she has done in her career."
By establishing the Dr. Phyllis Bridges Scholarship Endowment, the committee seeks to create a lasting tribute to her and provide continuing scholarships to benefit students at TWU.
For more information on contributing to the endowment, contact Patrice Frisby, development officer in the Office of University Advancement, at pfrisby@twu.edu or (940) 898-3863.
page updated 5/9/2016 4:58 PM