TWU's Benge recognized for Lifetime Achievement in Arts
10/10/14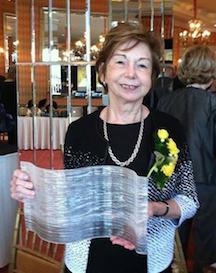 Photo courtesy of The Arts Council of Fort Worth
DENTON— Some of Sharon Benge's earliest memories involve the arts.
The Texas Woman's University professor of drama recalls pleading with her parents to pay for a dance class. "From the age of 10, I have always known that I had to be involved in theater, dance and the arts and always set out on that course," she said.
Her contributions to the arts recently were recognized at The Arts Council of Fort Worth's second annual Heart of Gold Awards Luncheon, where she received the Lifetime Achievement in the Arts award.
"The award was an unexpected honor, and I am grateful for the recognition from the Arts Council and my colleagues," Ms. Benge said.
Ms. Benge served as director of the TWU drama program for 13 years and currently is in her final full year of teaching at the university. During her tenure as the head of TWU Drama, she initiated the program's tradition of theatrical touring. Since 1999, TWU drama students have presented performances in Prague, Czech Republic; Dublin, Ireland; Edinburgh, Scotland; and New York City.
"My experiences in the theater program at TWU seemed to keep my love of the theater fresh," she said. "The enthusiasm with which my students reflect as they first step on stage reminds me of my original joy in the craft."
Ms. Benge has extensive experience in theater producing and directing and has opened more than 90 plays at theaters throughout the state of Texas. She is the founding director of Fort Worth's Shakespeare in the Park, and has served in artistic and administrative capacities at Casa Mañana Theater in Fort Worth, the Arts Council of Fort Worth and Tarrant County and the Dallas Theater Center.
"I once had a yearning for the New York theatrical scene, but two summers – one stuck way out in Long Island performing bit parts in a barebones summer stock company and one in the city with few friends, little money and a cramped little room – cured those longings," she said.
"In the Fort Worth/Dallas area, I have always discovered a rich and lively arts environment and would not trade my experiences in observing, reporting, producing, directing and teaching in this fertile ground."
Ms. Benge recently concluded 25 years of reporting area arts activities with co-host Quin Mathews on "Art Matters," a weekly 30-minute talk show on WRR-FM Radio. She also served as performing arts coordinator for the annual Main Street Fort Worth Arts Festival for 12 years.
Ms. Benge shares her love of the arts with her husband, Bill. "It is a blessing that he does not want to take me fishing or hunting instead," she said. "We enjoy talking about what we've seen or heard, even years later."
She does plan to stay connected to TWU after her retirement. As a Professor Emerita, Ms. Benge will direct a play at the university next year and will teach an occasional course. She also has been invited to serve on the Commission for Public Art in Tarrant County.
"I am spending a joyful life working in the arts," she said.
page updated 5/9/2016 4:58 PM