LeFlore named dean of TWU Graduate School
1/24/14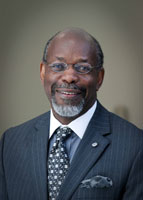 DENTON — Dr. Larry LeFlore recently was named dean of the Texas Woman's University Graduate School after serving as interim dean for one year.
"I believe I can make a difference in graduate education," Dr. LeFlore said. "I welcome the opportunity to influence or effect change."
One change he would like to implement is in services to students. Many TWU graduate students are working parents, Dr. LeFlore said, adding, "Graduate education and the way we provide it should take that into consideration."
Giving a voice to graduate students, who make up 37 percent of TWU's student population, also is a priority for Dr. LeFlore.
"They deserve a seat at the table when it comes to decisions being made," he said.
Graduate students got that voice last year with the establishment of the TWU Graduate Student Council. Each graduate program has one voting representative on the Graduate Council, an elected board of graduate faculty that develops Graduate School policies and makes recommendations on all matters affecting TWU graduate programs.
Dr. LeFlore also has concerns about graduate faculty members finding time to conduct their own research while teaching full course loads. Many faculty teach undergraduate as well as graduate courses, he said.
Dr. LeFlore began his career in higher education as an instructor. He worked in administration at The University of Southern Mississippi and West Virginia University before coming to TWU in 2005 as professor and chair of the family sciences department. He was selected as interim dean of the Graduate School in 2012 and was named dean late last year.
He sees many opportunities ahead for the university.
"TWU has so much potential," he said. "We haven't really begun to tap into what all we can do."
page updated 5/9/2016 4:58 PM