Anita Hufft named dean of TWU's College of Nursing
7/25/14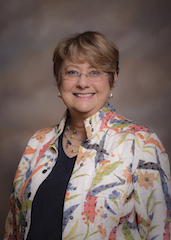 DENTON/DALLAS/HOUSTON — Texas Woman's University has named Dr. Anita Hufft as the new dean of the TWU College of Nursing for the university's Denton, Dallas and Houston campuses. A TWU alumna, Dr. Hufft previously served as dean of the College of Nursing and Health Sciences for Valdosta State University in Georgia. She began her duties at TWU July 15.
"I am honored and excited to return to my alma mater," Dr. Hufft said. "Accepting the position of dean of the College of Nursing at TWU allows me to contribute to our legacy of excellence in nursing education, dedication to the development of student-centered teaching-learning environments and the advancement of nursing science."
She continued, "I believe that my experiences in nursing education, nursing scholarship and professional service have guided me back to Texas, and I am delighted to have the opportunity to work with the superior TWU faculty and staff on the three unique and flourishing campuses of the university. I look forward to sharing in the creation of a nurturing and innovative academic environment and leading TWU to its rightful place as the premier nursing education program in the region and beyond."
Dr. Hufft received her bachelor of science in nursing from the University of Maryland, Walter Reed Army Institute of Nursing; obtained a master of nursing degree in psychiatric and mental health nursing from Louisiana State University; and earned her Ph.D. in nursing from TWU.
A registered nurse, she served as a professor of nursing and dean of the College of Nursing and Health Sciences for Valdosta State University since 2004. She also has held academic appointments at Louisiana State University, Indiana University Southeast, William Carey College, Indiana University, Spalding University and Houston Baptist University.
Dr. Hufft is a veteran of the United States Army and is nationally recognized in the nursing profession as a consultant, a speaker at national conferences and as a frequent contributor to nursing publications in forensic nursing and nursing education leadership. She has served her profession as a member of various task forces, committees and boards, such as the Georgia Board of Nursing, the Board of Regents of the University System of Georgia's Academic Advisory Committee on Nursing, the Georgia Association of Nursing Deans and Directors, the Journal of Forensic Nursing Editorial Board, the Southern Regional Education Board of the Council on Collegiate Education for Nursing, the Georgia Chapter of the International Association of Forensic Nursing and the American Association of Colleges of Nursing.
She has received numerous grants, fellowships, awards and honors. These include receiving a $1.5 million federal grant for a project to deliver health care to the working uninsured, being named one of the TWU Great 100 Alumni on the occasion of TWU's Centennial and receiving the Forensic Nurse Scholar Award from the International Association of Forensic Nurses.
###
With more than 11,000 alumni and more than 3,300 undergraduate and graduate students in Denton, Dallas and Houston, TWU is among the largest colleges of nursing in Texas and one of the nation's leading provider of new nurses. TWU nursing students' first-time pass rate on the National Council Licensure Examination is more than 90 percent, well above the national and state averages. Through the TWU Center for Global Nursing Scholarship, TWU faculty and students promote world health through collaborative efforts with nursing colleagues throughout the world. The TWU College of Nursing is using more than $3.4 million in grant funding for student scholarships and faculty and student research projects. For more information, visit www.twu.edu/nursing.
page updated 5/9/2016 4:58 PM