TWU student Ariane Stoker receives TYLENOL® Future Care Scholarship
1/28/13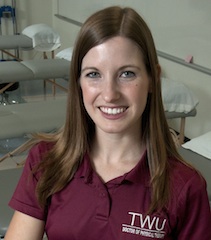 HOUSTON – Ariane Stoker, a doctor of physical therapy student at the Texas Woman's University Institute of Health Sciences-Houston Center, is one of only 40 students nationwide to receive a TYLENOL® Future Care Scholarship.
More than 25,000 students applied to the prestigious program, which awards scholarships to undergraduate and graduate students pursuing an education in health care to "support those dedicated to a lifetime of caring for others." Ms. Stoker received a $5,000 award to continue her studies to become a pediatric physical therapist.
"I always have enjoyed the opportunity to help others," Ms. Stoker said. "Receiving this scholarship is an amazing recognition of my life's calling and reinforces my desire to become a physical therapist."
Ms. Stoker has a long history of helping children overcome physical injuries, including volunteering in orphanages in Ecuador. There, she helped an Ecuadorian physical therapist do therapy with children who have cerebral palsy.
"Although the days were exhausting, I always went home feeling that I had made a difference in the life of a child," she said. "Working in Ecuador was definitely a high point in fortifying my decision to study physical therapy."
Since 1982, the makers of TYLENOL® have awarded more than $8.7 million in scholarships through the Future Care Scholarship program. For more information, visit www.scholarship.tylenol.com.
---
Media Contact:
Amanda Simpson
Director of Media Relations
940-898-3456
asimpson1@twu.edu
page updated 10/2/2014 10:58 AM