Tusculum President Dr. Nancy Moody Receives TWU Chancellor's Alumni Excellence Award
10/10/13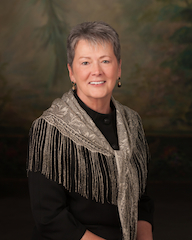 DENTON – Dr. Nancy Moody, president of Tusculum College in Greeneville, Tenn., is the fall 2013 recipient of the Texas Woman's University Chancellor's Alumni Excellence Award. She is being honored for her distinguished career in higher education.
"I was extremely fortunate to have the opportunity to attend Texas Woman's University on the Houston campus for a summers only program. I had the privilege of learning from renowned faculty, but the education that I was provided while living in the Medical Center went far beyond the classroom and clinical experiences. This was where I learned how to deal better with challenging situations, how to be self-reliant and how to become a better decision maker," Dr. Moody said.
"The experiences that I had during those three summers provided me with a foundation for success that has guided me throughout my career as a faculty member, department chair, dean and, even now, as President of Tusculum College."
Dr. Moody has served as president of Tusculum College since 2009. During her tenure, she has led the college's successful reaffirmation of accreditation from the Southern Association of Colleges and Schools Commission on Colleges and secured a $45 million Community Facilities direct loan for the construction of two new apartment style residence halls, a science and math facility and to refurbish an existing academic building. She also secured a $3.875 million gift for the naming of the Ronald H. and Verna June Meen Center for Science and Math that will be complete in 2015. In addition, Dr. Moody has overseen the efforts to bring several new undergraduate and graduate programs to the college, including nursing, chemistry, criminal justice, psychology and a master of business administration degree. The college's board of trustees recently recognized Dr. Moody's contributions to Tusculum by presenting her with the inaugural Founder's Award in February 2013.
Prior to joining Tusculum College, Dr. Moody was president of Lincoln Memorial University for seven years. Under her leadership, LMU's enrollment increased by 90 percent. The university also initiated the Lincoln Memorial University-DeBusk College of Osteopathic Medicine and expanded the Caylor School of Nursing to include a master of science in nursing degree program with family nurse practitioner and nurse anesthesia concentrations. Other programs initiated under her leadership included a master's degree program preparing physician's assistants and a doctorate of education degree.
A registered nurse, Dr. Moody began her academic career as a nursing instructor for Lincoln Memorial University in 1974 and advanced to hold several academic leadership positions there – including dean of the School of Nursing and Allied Health – prior to being named LMU president. Her career also includes serving as the executive director of the Tennessee Center for Nursing, as an assistant professor of nursing in the College of Nursing at the University of Tennessee, Knoxville, and as associate professor and department chair in the College of Nursing at East Tennessee State University.
She is a member of the Board of Trustees of the Southern Association of Colleges and Schools Commission on Colleges, chair of the NCAA DII South Atlantic Conference, and an advisory board member for the Northeast Tennessee College and Career Readiness Consortium funded through an Investing in Innovation (i3) grant funded by the U. S. Department of Education. Previously Dr. Moody served on the NCAA DII President's Council, was chair of the Tennessee Independent Colleges and Universities Association (TICUA), and a member of the Board of the Appalachian Colleges Association (ACA).
Dr. Moody received her associate's and bachelor's degrees in nursing from Eastern Kentucky University and earned a master of science in nursing from the TWU Institute of Health Sciences-Houston Center in 1978. She also received a doctorate in nursing from the University of Alabama School of Nursing at Birmingham.
In 2011, TWU Chancellor Ann Stuart donated $120,000 to fund a 20-year program to bring the two recipients of the Chancellor's Alumni Excellence Award to campus each year to share their experience and expertise with the TWU community.
---
Media Contact:
Amanda Simpson
Director of Media Relations
940-898-3456
asimpson1@twu.edu
page updated 10/2/2014 10:58 AM