TWU student using Gilman Scholarship to study in England
2/22/13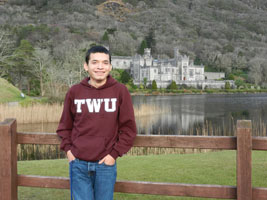 TWU sophomore Alejandro Rico poses near Kylemore Abbey in Ireland.
DENTON — Alejandro Rico, a sophomore criminal justice major at Texas Woman's University, is using his $4,500 scholarship from the Benjamin A. Gilman International Scholarship Program to participate in TWU's study abroad program in England.
Mr. Rico, of Valley View, is spending the spring 2013 semester at Harlaxton College in Grantham, England. He was awarded a prestigious Gilman Scholarship following a competitive selection process that included a four-part application and two essays. He learned via email late into the fall 2012 semester that he had been awarded a scholarship.
"It felt great to know that someone believes in my future," he said.
Mr. Rico will return to the United States in April. Meanwhile, he is enjoying his first trip overseas. When not in the classroom, he has traveled to London and to cities in Ireland. He is planning trips to Spain, Italy and France.
"If it wasn't for the Gilman Scholarship or the TWU study abroad scholarship, there is no way I would be here in the United Kingdom now," he said. "I am grateful to my university for believing in my education and success."

Mr. Rico's career goals include becoming a Texas State Trooper and, perhaps one day, a U.S. Marshal. "I would love to wake up each day and know that I'll be making a difference in someone's life," he said
The Benjamin A. Gilman International Scholarship Program offers awards to undergraduates who might otherwise not participate in study abroad programs due to financial constraints. International study is intended to better prepare U.S. students to assume significant roles in an increasingly global economy and interdependent world. The Bureau of Educational and Cultural Affairs of the U.S. Department of State sponsors the program. For more information on the Gilman Scholarship, visit www.iie.org/en/Programs/Gilman-Scholarship-Program.
page updated 10/2/2014 10:58 AM