TWU Enactus team heads to Nationals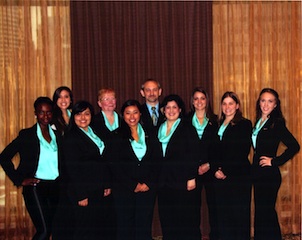 Texas Woman's University's Enactus team members, from left, Jessica Mensah, Tiana Fenno, Stephanie Avila, Sherrie Taylor, Maria Reyes, Dr. David Rylander, Sandra Gonzales, Lacey Rodriguez, Christian Terry and Lauren Hoebee celebrate winning the Enactus Regional Competition in Dallas in April.
DENTON – The Texas Woman's University Enactus team will compete in the 2013 Enactus U.S. National Exposition in Kansas City, Mo., May 21-23 following the team's recent win at the Enactus Regional Competition in Dallas.
Team members are: Stephanie Avila, a business administration/accounting major from Denton; Tiana Fenno, a fashion merchandising major from Lubbock; Sandra Gonzales, a business administration major from Denton; Lauren Hoebee, a business administration/management major from Denton; Jessica Mensah, fashion merchandising major from Frisco; Maria Reyes, a child development major from Dickinson; Lacey Rodriguez, a business administration major from Sherman; and Christian Terry, business administration/management major from Lewisville.
The TWU Enactus team's outreach projects included hosting workshops and providing professional development support to the Denton County Friends of the Family, presenting a business and financial literacy conference for the Girl Scouts of Northeast Texas and empowering a village in Belize by establishing a children's library, giving scholarship funds to children to complete school and helping village women develop a business selling their crafts. The group also provided consulting to several small businesses in Denton.
"The TWU Enactus team has a long tradition of empowering people in need through meaningful projects," said Dr. David Rylander, TWU Enactus adviser and associate professor of marketing. "We are pleased that we are able to once again showcase the quality of TWU students on the national stage."
The TWU team's 2013 regional win was its eighth in the past 13 years.
Dr. Rylander, who also is a Sam Walton Fellow, also credits the team's success to TWU Lecturer Emerita Sherrie Taylor, who has provided significant help to the team all year.
Formerly known as Students in Free Enterprise, or SIFE, Enactus is an international non-profit organization active on more than 1,500 university campuses in more than 39 countries. Enactus teams create economic opportunities in their communities by organizing outreach projects that teach market economics, entrepreneurship, personal financial success skills and business ethics. Their projects are judged at competition on creativity, innovation and effectiveness. For more information, visit www.enactusunitedstates.org.
---
Media Contact:
Amanda Simpson
Director of Media Relations
940-898-3456
asimpson1@twu.edu
page updated 10/2/2014 10:58 AM