TWU student Adriana Blanco receives national engineering scholarship and internship
7/19/13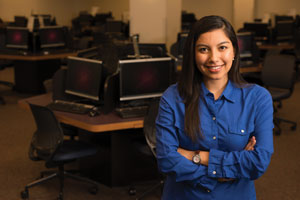 DENTON – Texas Woman's University student Adriana Blanco of Fort Worth is one of only 20 female engineering students in the U.S. to receive a national General Electric Women's Network scholarship from the Society of Women Engineers.
Ms. Blanco, a senior, will use her $5,000 scholarship during the 2013-2014 school year to pursue her dual degree in mathematics from TWU and electrical engineering from the University of North Texas. She expects to graduate from both universities in May 2014.
GE also selected Ms. Blanco to serve as an engineering intern during summer 2013 at the GE Transportation – Incremental Train Control Systems Office in Melbourne, Fla.
"Receiving this prestigious scholarship is so amazing, and I really appreciate how these women in engineering organizations are helping me reach my career goals," said Ms. Blanco. "I also know this internship will assist me in transitioning to my career as an electric engineer."
Ms. Blanco served as TWU's student regent for 2012-2013. She has served as president of the TWU Campus Activities Board (CAB), vice president of the TWU Student Government Association, vice president of UNT's Society of Women's Engineers and as a TWU student orientation leader. She is a member of Who's Who Among Students in American Universities and Colleges, the TWU National Society of Collegiate Scholars and the UNT chapter of Eta Kappa Nu – the honor society for electrical engineers.
Established in 1950, the Society of Women Engineers is a non-profit educational and service organization with a mission to make engineering a desirable career for women through training and development programs, networking opportunities, scholarships and outreach and advocacy activities. For more information, visit www.swe.org.
The GE Women's Network helps the more than 100,000 women working at GE advance their leadership skills, business practices, personal contacts and career opportunities. For more information, visit www.ge.com/careers/culture/diversity/womens-network.
---
Media Contact:
Amanda Simpson
Director of Media Relations
940-898-3456
asimpson1@twu.edu
page updated 10/2/2014 10:58 AM