TWU using grant to increase advanced nurse practitioners students and graduates
10/21/13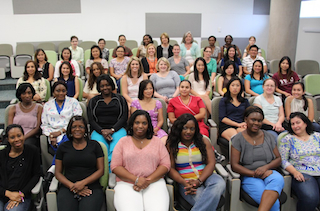 TWU's Houston Center has seen a 70 percent increase in advanced nurse practitioners students due to funding from a subcontract from Memorial Hermann Hospital. Shown are the August 2013 APRNs graduates during their last class at the TWU Houston Center.
HOUSTON — The Nelda C. Stark College of Nursing at TWU's Institute of Health Sciences-Houston Center is using more than $2 million in grants from the U.S. Department of Health and Human Services to prepare new advanced nurse practitioners (APRNs).
As a result, TWU has had a 70 percent increase in enrollment of APRN students in Houston in the past 18 months resulting in 80 new graduates through August 2013.
TWU is one of the subcontracting universities for Memorial Hermann Hospital, which received a $200 million grant from the Centers for Medicare and Medicaid Services' Graduate Nurse Education Demonstration project. The project is designed to boost the number of APRNs in the Texas Gulf Coast region.
TWU has received $2 million to date and may receive up to $4 million total as part of its subcontract.
"This truly is a win-win situation for both TWU and Memorial Hermann," said Dr. Karen Lyon, TWU associate dean of nursing in Houston. "The university gets more resources – including much-needed faculty, which results in more advanced nurse practitioners providing care in the region."
---
Media Contact:
Amanda Simpson
Director of Media Relations
940-898-3456
asimpson1@twu.edu
page updated 10/2/2014 10:58 AM