Ret. Navy Capt. Maggie Johnson Richard Receives TWU Chancellor's Alumni Excellence Award
10/10/12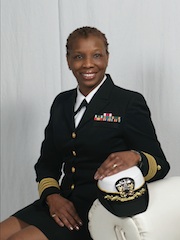 DENTON – Retired Navy Captain Dr. Maggie Johnson Richard is the third recipient and the first nurse to receive the Texas Woman's University Chancellor's Alumni Excellence Award. She is being honored for her distinguished military and nursing career.
"It seems like just yesterday that I traveled across the Hampton Bridge from West Dallas to TWU, a young woman proud of her origin and excited about a future as a nurse," Dr. Johnson said. "I am forever thankful that my life has evolved to this place. It is a wonderful honor to receive the TWU Chancellor's Alumni Excellence Award. I acknowledge the exceptional love of family, friends and God that has served as my foundation."
Dr. Richard served 26 years in the U.S. Navy, retiring at the rank of captain. She held leadership positions at the Chinhae Korea Medical Clinic, Naval Hospital Guam, National Naval Medical Center in Bethesda, Md., and Navy Medicine Headquarters in Washington, D.C. She also served as a special adviser to the Surgeon General of the U.S. Navy.
In 2007, she was selected to represent and speak for all military and Public Health Service Nurses at the 10th Anniversary of the Women in Military Service for America Memorial ceremony. In 2012, Dr. Richard retired from the Navy and her position as director of the Navy and Marine Corps Human Research Protection Program.
Dr. Richard received her bachelor's degree in nursing from TWU in 1985. She also has a master of science degree in community health from Old Dominion University and a Ph.D. in nursing from the University of Maryland, Baltimore.
Throughout her career, Dr. Richard was consistently involved in higher education through teaching and conducting research. She currently resides in Maryland and is an associate professor at Howard University and Morgan State University.
In 2011, TWU Chancellor Ann Stuart donated $120,000 to fund a 20-year program to bring the two recipients of the Chancellor's Alumni Excellence Award to campus each year to share their experience and expertise with the TWU community.
---
Media Contact:
Amanda Simpson
Director of Media Relations
940-898-3456
asimpson1@twu.edu
page updated 10/2/2014 10:59 AM