TWU student receives national Phi Kappa Phi Fellowship
5/25/12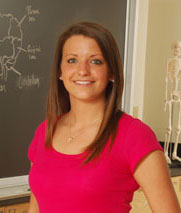 Photo credit: Ronda DuTeil
DENTON — Recent Texas Woman's University graduate Sarah Adams is one of only 56 students in the U.S. and five in Texas to receive a national Phi Kappa Phi Fellowship. She will use her $5,000 scholarship to pursue a Ph.D. in biomedical science at the University of North Carolina Chapel Hill.
"I am thrilled to be a fellowship recipient, because Phi Kappa Phi truly represents the best in academia," Ms. Adams said. "To receive the fellowship is one of my highest honors as a TWU student, and the funds will be a tremendous help as I begin graduate studies in the fall."
Ms. Adams received a bachelor's degree in biology and a bachelor's degree in chemistry from the university May 12. She also served as the commencement speaker during the TWU College of Arts and Sciences graduation ceremony that day.
The Phi Kappa Phi Fellowship is the second prestigious national scholarship awarded to Ms. Adams. In fall 2010, she and fellow TWU students Victoria Loveland and Carin Hunt Balusek were among 44 students in the nation to receive a $10,000 scholarship from the National Consortium of Measurement and Signals Intelligence Research Scholars Program, funded by the National Science Foundation.
The TWU Former Students Association named Ms. Adams as one of three TWU Outstanding Seniors during TWU Honors Convocation in April. She also has held numerous leadership positions at the university, including being the past student regent, student vice president of the TWU Phi Kappa Phi Honor Society, past president of the TWU Honors Scholars Athenian Honor Society and a member of the TWU Senate with the Student Government Association. She also was a student researcher in the lab of TWU biology professor Dr. Lynda Uphouse.
The Honor Society of Phi Kappa Phi is the nation's oldest, largest and most selective all-discipline honor society. For more information, visit www.PhiKappaPhi.org.
---
Media Contact:
Amanda Simpson
Director of Media Relations
940-898-3456
asimpson1@twu.edu
page updated 10/2/2014 10:59 AM