TWU History Honor Society earns national Best Chapter Award
8/21/12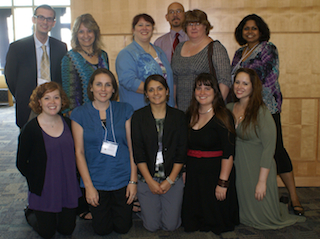 Cutline: TWU's Phi Alpha Theta members present at the 2012 Northeast Texas Phi Alpha Theta Regional Conference at Texas A&M Commerce in April. Top row, from left: TWU Chapter Adviser Dr. Jacob Blosser, Melba Chance, Kelly Jackson, Michael Garofalo, Rene Garofalo and Aiesha McFadden. Bottom row, from left: Jillion Crawford, Beth Farr, Kaitlyn Waynen, Katie Fogle and Tiffany Smith
DENTON — The Texas Woman's University Chapter of the national history honor society Phi Alpha Theta is one of only six chapters in the nation to receive a Best Chapter Award from the national Phi Alpha Theta organization.
The TWU group was named "Best Chapter" in the nation for Division IV, which includes colleges and universities with enrollments from 10,001 to 14,999 students. As part of the award, TWU's chapter will be featured in an upcoming issue of Phi Alpha Theta's national publication, The News Letter, and the TWU Department of History and Government will receive $250 to purchase history books.
"The TWU chapter's large, active membership is committed to fostering academic excellence through participation in national conferences, through our journal and through an active calendar of lectures, fieldtrips and film screenings," said Dr. Jacob M. Blosser, TWU associate professor of history and Phi Alpha Theta adviser. "This national award recognizes us for doing all the things TWU does best – putting our students first and advancing their career aspirations."
Founded in 1921, Phi Alpha Theta has chapters on more than 900 campuses across the United States. Membership in the society is open to undergraduate and graduate students who meet specific academic criteria. Students and faculty established TWU's chapter, Eta Nu, in 1960.
This award culminates several years of growth for the TWU chapter. Since 2010, the chapter has inducted 90 new members in biannual induction ceremonies. Though members once were exclusively history majors, a majority of new members now come from disciplines across the university.

Since 2008, the TWU chapter has taken 50 TWU student-presenters to national and regional academic conferences across the nation. At these conferences, the students presented their original research papers and received important feedback on their research. In 2012, the chapter sent a total of 16 student-presenters to the Phi Alpha Theta Biennial National Convention in Orlando and the Northeast Texas Regional Phi Alpha Theta Conference in Commerce.
In 2011, the TWU chapter won the national Phi Alpha Theta Facebook contest. TWU's chapter had more members actively supporting the national Phi Alpha Theta Facebook page than any other chapter in the country.
For more information on TWU's Phi Alpha Theta, visit www.twu.edu/history-government/organizations.asp.
---
Media Contact:
Amanda Simpson
Director of Media Relations
940-898-3456
asimpson1@twu.edu
page updated 10/2/2014 10:59 AM