TWU's Maguire elected as a SENCER Leadership Fellow
6/29/12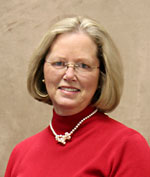 WASHINGTON, D.C./DENTON — Cynthia Maguire, a senior lecturer in the Texas Woman's University chemistry and biochemistry department, is one of only nine educators in the U.S. to be elected as a 2012-2013 SENCER (Science Education for New Civic Engagements and Responsibilities) Leadership Fellow by the National Fellowship Board of the National Center for Science and Civic Engagement.
Ms. Maguire was elected as a SENCER Leadership Fellow from a pool of more than 2,500 faculty members and academic leaders who are part of the national SENCER community. Funded by the National Science Foundation, SENCER is a comprehensive faculty development and science education reform project that engages students in science and math by focusing coursework on real-world problems.
"Being a part of SENCER has changed my life both personally and professionally, because I am part of a community of practitioners committed to improving student learning," Ms. Maguire said. "Being elected as a Leadership Fellow is a great honor because I can pay forward the benefits I have already gained from SENCER to make a difference, not only locally, but on a larger scale as well."
Ms. Maguire is one of the lead instructors of TWU's Science Society and Sustainability Certificate program, teaching both the foundation and capstone courses. The program is designed to teach sustainability issues from many perspectives and culminates in a civic project to improve the sustainability of the local community.
"Ms. Maguire's enthusiasm about the SENCER approach and her leadership in developing education initiatives that foster civic engagement help promote SENCER ideals across disciplines on the TWU campus," said Dr. Ann Staton, dean of the TWU College of Arts and Sciences. "I am proud of her election as a SENCER Leadership Fellow, as it will help TWU continue to build upon our current SENCER programs."
As a Fellow, Ms. Maguire plans to organize one workshop each year at TWU, which also is home to the SENCER Center for Innovation-Southwest. She attended an International Institute for SoTL Scholars and Mentors workshop in May for the purpose of further developing the dual poster concept. The dual poster pilot study results have indicated students who develop a public version of their technical poster are significantly more capable of understanding and communicating the importance of their work.
Ms. Maguire is the second TWU faculty member elected as a SENCER Leadership Fellow. Dr. Richard Sheardy, professor and chair of the TWU Department of Chemistry and Biochemistry, was elected as a Fellow in 2008.
For more information on SENCER, visit www.sencer.net.
---
Media Contact:
Amanda Simpson
Director of Media Relations
940-898-3456
asimpson1@twu.edu
page updated 10/2/2014 10:59 AM