TWU's Jackson appointed to national financial aid task force
3/16/12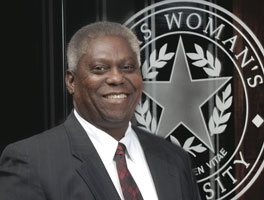 DENTON — The National Association of Student Financial Aid Administrators recently appointed Governor Jackson, director of financial aid at Texas Woman's University, to its Higher Education Act (HEA) Reauthorization Task Force.
Mr. Jackson was one of only 16 financial aid professionals in the nation to be selected to the task force.
The task force will draft a set of proposals on issues and specific statutory changes needed for the federal student aid programs and their delivery systems. These proposals will be submitted to the U.S. House Committee on Education and the Workforce.
"There are a number of things I want to accomplish on the task force," Mr. Jackson said. "Our work will address issues that are important to me on both a professional and personal level." These issues include access to postsecondary education, fairness and equity across all sectors of postsecondary education, policies that address the needs of disadvantaged students and programs that encourage student financial and academic preparation at an early age.
The task force will gather feedback from state, regional and national association conferences, as well as higher education associations and other groups and agencies, regarding issues to be addressed. The task force is expected to complete its work by July 2013 and present a final report to the membership at the 2013 National Conference in Las Vegas.
page updated 10/2/2014 10:59 AM