TWU's first Chancellor's Alumni Excellence Award event scheduled April 17
4/6/12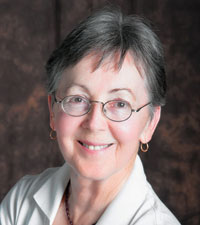 DENTON — Internationally known Greenpeace scientist and Texas Woman's University alumna Pat Costner will be honored during the inaugural Chancellor's Alumni Excellence Award ceremony Tuesday, April 17 on TWU's Denton campus.
Ms. Costner will speak on "Global Perspectives on Persistent Organic Pollution" and will receive the first Chancellor's Alumni Excellence Award from TWU Chancellor Dr. Ann Stuart. The ceremony begins with a reception at 5 p.m. in the Ann Stuart Science Complex.
Ms. Costner is being honored for her groundbreaking work in chemical production policymaking. During her 20-year career with Greenpeace, Ms. Costner played a key role in worldwide campaigns to eliminate the manufacture and use of chlorinated chemicals. She served as director of the U.S. Toxics Campaign and advanced to the level of senior scientist with the Greenpeace International Science Unit before retiring in 2004.
Her work has influenced international, national and regional waste management and chemical production policies and regulations. She also wrote the book "We All Live Downstream," considered a seminal work on the management of human waste.
Ms. Costner received her bachelor's degree in chemistry and mathematics from TWU in 1961 and her master's degree in organic chemistry from the university in 1964.
In conjunction with the establishment of the award, Chancellor Stuart has given $120,000 to establish the Ann Stuart Fund to Underwrite the Chancellor's Alumni Excellence Award. Chancellor Stuart's gift will fund a 20-year program designed to bring the recipient of the TWU Chancellor's Alumni Excellence Award to campus to share his or her experience and expertise with the university community. The TWU academic department from which the recipient graduated will organize the TWU Chancellor's Alumni Excellence Award event, which will continue annually through 2032.
page updated 10/2/2014 10:59 AM