TWU's Cesario receives national nursing association's highest honor
6/27/12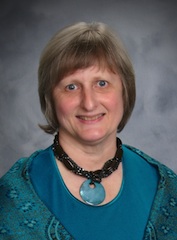 HOUSTON — Dr. Sandra Cesario, professor of nursing at the Texas Woman's University Institute of Health Sciences-Houston Center, recently received the 2012 Distinguished Professional Service Award from the Association of Women's Health, Obstetric and Neonatal Nurses (AWHONN), the highest honor given by the organization.
Dr. Cesario was recognized for her more than 30-year career in nursing practice and for her advocacy, teaching and research in women's health and newborn care.
"This award reflects my passion for nursing and promoting the health of women and newborns," Dr. Cesario said. "I am humbled to receive such an important award from my peers."
A longtime AWHONN member, Dr. Cesario currently is the Ph.D. coordinator and a professor at the Nelda C. Stark College of Nursing at TWU's Houston Center. She is considered a national expert in women's health and has conducted extensive research in ovarian cancer, second stage of labor management, newborn abandonment and design of health care systems. She has received numerous honors, including AWHONN's 2011 Excellence in Writing Award, the Good Samaritan Foundation Silver Award for Excellence in the category of Nursing Faculty, the Texas Organization of Baccalaureate and Graduate Nursing Education Innovations in Teaching Award and the TWU Distinction in Teaching Award.
Dr. Cesario is a founding member of the Nursing Institute for Healthcare Design, a fellow of the American Academy of Nursing and a member of the Oncology Nursing Society, Ovarian Cancer National Alliance, the Texas Nurses Association and Sigma Theta Tau International - the honor society for nurses. She received her bachelor of science in nursing from Fort Hays State University, her master of science in nursing from the University of Oklahoma and her Ph.D. in nursing from TWU.
AWHONN has more than 24,000 members worldwide who are clinicians, educators and executives who serve as patient care advocates focusing on the needs of women and infants. For more information, visit www.awhonn.org.
---
Media Contact:
Amanda Simpson
Director of Media Relations
940-898-3456
asimpson1@twu.edu
page updated 10/2/2014 10:59 AM