TWU graduate student earns national psychology award
10/19/12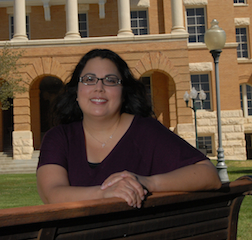 DENTON — Sonia M. Carrizales, a psychology doctoral candidate at Texas Woman's University, recently was named Student of the Year by the American Psychological Association's (APA) Section for the Advancement of Women (SAW).
Ms. Carrizales was honored for her contributions to SAW – where she served as the executive student representative for more than three years – and for her research on feminism and privilege, and for and her contributions to the group's newsletter. In recognizing Ms. Carrizales, SAW also acknowledged her commitment to the field of psychology outside the group, including her research on weight bias and body issues and her teaching.
"Receiving this award truly is a validation of my career path and my research," Ms. Carrizales said.
Ms. Carrizales has presented her research at the American Psychological Association Annual Convention, the Annual Convention of the Association for Psychological Science and the National Latina/o Psychological Association National Convention. Her work also has been published in the Encyclopedia of Child Behavior and Development and Obesity – the journal of the national Obesity Research Society. She also is a student reviewer for the Psychology of Women Quarterly.
Ms. Carrizales currently serves as an intern at the Nexus Recovery Center and as an instructor at TWU. She earned her master's degree in counseling psychology from TWU and her bachelor's degree in psychology and economics from the University of North Texas.
SAW is a division of the APA's Society of Counseling Psychology and is a national group of professionals and students that focuses on the psychological counseling of women. For more information, visit www.div17.org.
---
Media Contact:
Amanda Simpson
Director of Media Relations
940-898-3456
asimpson1@twu.edu
page updated 10/2/2014 10:59 AM