TWU receives $500,000 for WASP Endowment
5/25/12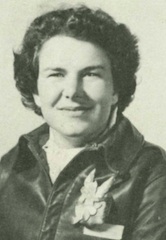 WASP Dorothy "Dot" Ebersbach
DENTON – Texas Woman's University – home to the national archives of the Women Airforce Service Pilots (WASP) – recently received a $500,000 gift from the estate of WASP Dorothy "Dot" Ebersbach for the endowment that supports the archives.
In addition, a gift of $100,000 was given to the WASP Endowment last fall by an anonymous donor to support the archives.
These gifts will allow TWU to continue to digitize the WASP collection of more than
1 million pieces of paper, 25,000 photographs and almost 700 oral histories. The endowment also supports the TWU Blagg Huey Library's efforts to lend portions of the collection for exhibits around the country.
"The WASP are not just important to women's history; the group is a integral part of U.S. history," said Kimberly Johnson, coordinator of special collections for the TWU Libraries. "We appreciate these gifts tremendously, as the funds make it possible for us to keep the history and stories of WASP like Dot Ebersbach alive for future generations."
Ms. Ebersbach grew up in Ohio and began working for her father's construction company, which required that she learn to fly. She quickly fell in love with flying and when the U.S. became involved in World War II, she joined the WASP.
She served both in Texas and Arizona, doing test flights and towing targets so that soldiers could practice shooting. The work of Ms. Ebersbach and her fellow WASP was instrumental in the war efforts and freed up men to fly and fight overseas at a time when women were not combat participants. In 2010, Ms. Ebersbach and her fellow WASP were awarded the Congressional Gold Medal, the nation's highest civilian award for their service during World War II.
Ms. Ebersbach passed away last November at her home in Florida at the age of 96.
The WASP were the first women in history to fly for the U.S. military, serving between 1942 and 1944 at the height of World War II. TWU's Blagg Huey Library is home to the official WASP archives, the most extensive archival collection of WASP material in the United States. For more information, visit www.twu.edu/library/wasp.asp.
---
Media Contact:
Amanda Simpson
Director of Media Relations
940-898-3456
asimpson1@twu.edu
page updated 10/2/2014 10:59 AM