TWU student selected for NIH internship
9/26/12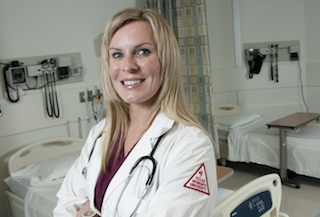 HOUSTON — Jessica McKinley, a senior nursing major at the Texas Woman's University Institute of Health Sciences-Houston Center, was one of only 10 nursing students in the U.S. selected for a research internship at the National Institutes of Health (NIH) Clinical Center in Bethesda, Md.
Ms. McKinley was selected from an application pool of more than 7,000 undergraduate and graduate students for the NIH's Intramural Research Training Award program. She spent last summer observing and participating in biomedical research at the NIH Clinical Center, working alongside some of the nation's top doctors and leaders in health care. She also attended the International AIDS Society conference in Washington, D.C.
"I was able to observe new procedures performed and review very rare and interesting medical cases, which was a fascinating experience and will help me in my future nursing career," Ms. McKinley said.
As part of her internship, Ms. McKinley participated in a research project and developed a research poster and brochure "Understanding Mastocytosis," a rare disease caused by too many mast cells.
The NIH, which is part of the U.S. Department of Health and Human Services, is the largest source of funding for medical research in the world and funds thousands of scientists in universities and research institutions in every state across America and around the globe. For more information, visit www.nih.gov.
The Intramural Research Training Award programs at the NIH provide interns an opportunity to spend a summer working at the NIH Clinical Center in an environment devoted exclusively to biomedical research. Summer interns participate in a wide range of activities including observing clinical research nursing and interdisciplinary teams, rounds and lectures with investigators, career/professional development workshops, mentorship in a research project and development of a research poster presented at the Summer Poster Day. For more information, visit www.training.nih.gov.
---
Media Contact:
Amanda Simpson
Director of Media Relations
940-898-3456
asimpson1@twu.edu
page updated 10/2/2014 10:59 AM