TWU student Ashlee Engle-Harwell wins $1,000 gas card
1/3/13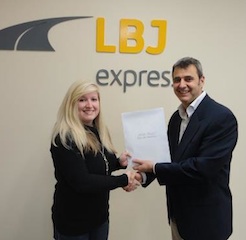 DENTON – Ashlee Engle-Harwell, a Texas Woman's University senior and English major from Carrollton, Texas, recently won a $1,000 gas card as part of the 'Name The Lanes' contest to name the new managed lanes of the LBJ Express and North Tarrant Express construction projects.
Ms. Engle-Harwell was one of 13 randomly selected 'winners' of the "Name the Lanes" contest, where gas cards valued at $2,500, $1,000, $500 or $100 where given to community members who submitted suggested names for the new managed lanes.
TEXpress Lanes was the selected name for the managed lanes, which are new to the North Texas region and will be implemented on the LBJ Express and North Tarrant Express projects, which are currently under construction, as well as on the DFW Connector and other facilities that will become part of the network. The first segment of the LBJ Express will open in late 2013, with both projects fully completed by 2015. The DFW Connector is scheduled to reach substantial completion in summer 2013 with its managed lanes opening in early 2014.
"The 'Name The Lanes' contest was the first of many educational outreach activities that we will implement to help get North Texas drivers more familiar with the concept of managed, or TEXpress Lanes," said Robert Hinkle, director of corporate affairs for NTE Mobility Partners, the developer of the Tarrant County-based North Tarrant Express.
The variable toll concept allows drivers to use the designated TEXpress Lanes at a speed of at least 50 miles per hour, regardless of the hour of the day or the potentially slower traffic around them on non-toll lanes. The cost of tolls for these express lanes will be adjusted depending on how heavy traffic is to ensure a minimum traffic flow of at least 50 mph at all times.
---
Media Contact:
Amanda Simpson
Director of Media Relations
940-898-3456
asimpson1@twu.edu
page updated 10/2/2014 10:59 AM