TWU receives largest gift ever for WASP Endowment
9/28/12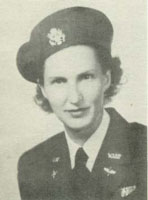 DENTON — Texas Woman's University recently received its largest gift to date to support the WASP (Women Airforce Service Pilots) archival collection at the university.
The estate of WASP Frankie Lovvorn Bretherick gave $532,500 to the WASP Endowment Fund. The gift will allow TWU's Blagg Huey Library – home to the national WASP archives – to continue to transfer WASP records, photographs and oral histories to digital media, thereby extending the potential uses of the historical record in support of teaching and research. The endowment also supports the library's efforts to lend portions of the collection for exhibitions around the country.
"The growth of our WASP Endowment demonstrates the commitment of the WASP to the work TWU is doing to preserve their history and promote their legacy to future generations," said Kimberly Johnson, coordinator for special collections. "Our WASP Endowment donors recognize the importance of sustainability. Growing this endowment ensures that, as new technologies and collaborations unfold in the coming years, we can expand on the work done over the last two decades well into the future."
Ms. Bretherick grew up in Texas and gained her pilot's license while working as a nurse in the Civil Service. She completed training with the WASP at Avenger Field in Sweetwater and was stationed at Greenville Army Air Base in Greenville, Miss. After deactivation of the WASP, Ms. Bretherick joined the Army Nurse Corps, attended the School of Aviation Medicine and became an air evacuation nurse.
Ms. Bretherick passed away Jan. 20, 2012 in Plano at the age of 98.
The WASP were the first women in history to fly for the U.S. military, serving between 1942 and 1944 at the height of World War II. More information on the WASP can be found at www.twu.edu/library/wasp.asp.
page updated 10/2/2014 10:59 AM