Stone, Porflit receive 2019 Kee Awards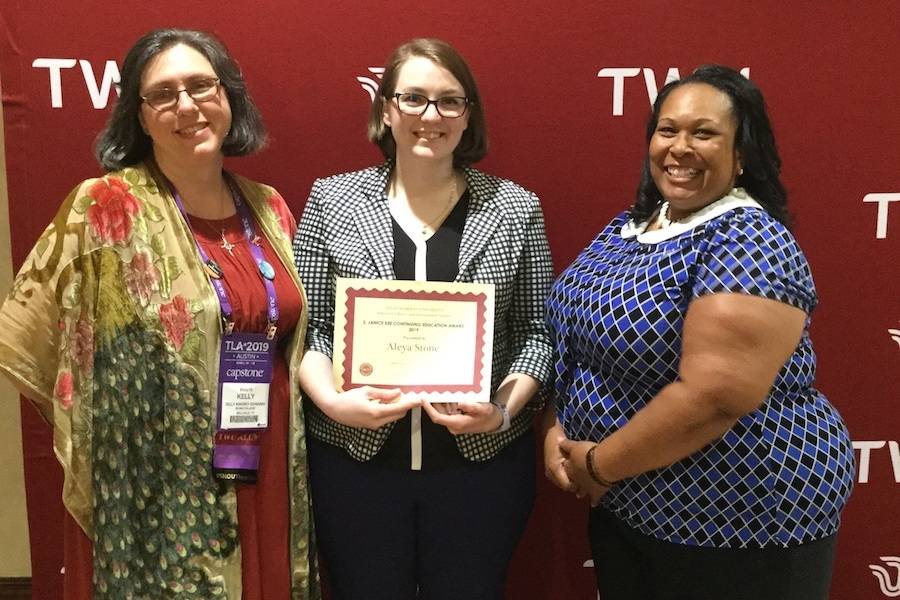 Juli Porflit (MLS 2016) and Aleya Stone (MLS 2017) are the recipients of the TWU SLIS 2019 S. Janice Kee Continuing Education Awards, presented April 17 at the TWU SLIS Reception in conjunction with the TLA annual conference in Austin. These $500 awards were established in 1987 by native Texan and TWU alumna Sarah Janice Kee (1908-1998) for graduates who seek financial support for continuing education.
Stone, a reference librarian at Tyler Public Library, plans to use this award to cover her TLA expenses. She is interested in attending sessions to help her in her job — adult programming, local history & genealogy, digital preservation and library instruction — but is most excited to meet other librarians! Stone has been involved in GLISA, Toastmasters and is vice president of Smith County Area Librarians Together.
Porflit is an El Paso ISD school librarian and was Elementary Teacher of the Year for El Paso in 2018. She is very involved with Makerspace programs and is planning to use this award to allow her to work with other districts (like Lewisville ISD) that are already implementing Makerspace. As she said on her application: "Peaking the interest of students and setting them in motion for the future is my calling." Porflit was unable to attend TLA this year to receive her award in person.
Page last updated 3:59 PM, June 12, 2019