SLIS congratulates inaugural graduating TLCART grant cohort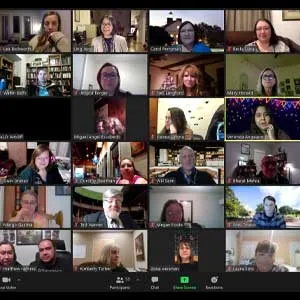 Congratulations to the members of the TLCART grant cohort who graduated in December 2020!
Transforming Libraries into Community Anchors in Rural Texas (TLCART), funded by the IMLS through the Laura Bush 21st Century Librarian Program, provided financial support for 20 students to earn their MLS degree with a specialty in Community Informatics.
The Principal Investigator of the grant was SLIS Director Ling Hwey Jeng, PhD, along with Co-Principal Investigator Carol Perryman, PhD. Cohort students participated in webinars and special projects throughout their program of study, and project mentors provided additional support to the students.
Members of the cohort, advisory board, mentors, SLIS instructors, as well as cohort family members participated in a virtual graduation celebration on Monday, Dec. 7, 2020. Each student was recognized and shared brief remarks during the celebration.
Graduates of the TLCART cohort are:
Ashley Aguillon
Veronica Anguiano
Jessica Berger
Mary Cardenas
Elizabeth Connery
Megan Foote
Gwin Grimes
Mary Hurley
Nell Langford
Maria Liera
Vanessa Mascorro
Lorie Navarro
Melinda Scribner
Michelle Slonaker
Laura Soto
Kimberly Turner
Irainea Urbina
Charla Viera
Donald Wetterauer
Carolyn Williams
Page last updated 3:01 PM, March 3, 2023