Services
Project INVEST believes in advocating a healthy and enjoyable life through sport and activity programs. We welcome every station of duty, branch of service, and active duty and veteran service members of all conflicts to become involved in our programs in order to make a positive impact in their lives and the lives of others. We offer a variety of individual and group programs for servicemen and women and their families. These programs are designed to improve and promote overall well-being and independence resulting from a physically active lifestyle.
Adapted Activities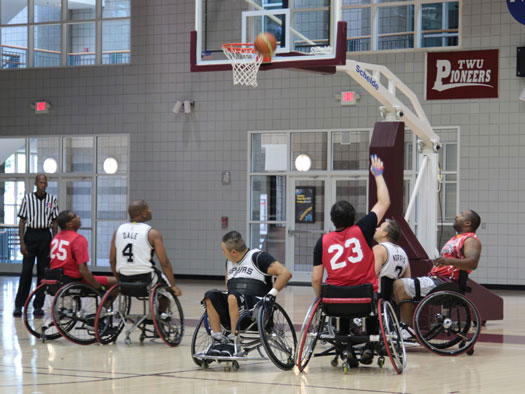 Wheelchair basketball
Indoor wheelchair soccer
Wheelchair tennis
Sit volleyball
Rock climbing
Water volleyball
Goal ball
Boccia
Kayak soccer
Fitness activities
Clinics
Project INVEST provides interactive clinics on a variety of adapted sports. Clinics feature activity training and instruction, sports drills, game play and scrimmages. Clinics can be customized to included several team and individual sports or focus on one activity.
Tournaments
Project INVEST manages and provides venues, support and staff for adapted sports tournaments. The tournaments allow athletes and teams to participate in beginner to advanced level competitions. A tournament fee may be required.
Event Support
The staff of Project INVEST frequently participates in military adaptive sports games and events as volunteers or support staff. The staff is able to provide a wide range of activities including conducting clinics, supporting classification of participants, judging, refereeing, operating game/shot clocks, keeping statistics/books, registering athletes, coaches and teams, and providing overall assistance. Project INVEST has provided assistance and support for the 2012 London Paralympic Games, 2013 Warrior Games, 2013 Texas Regional Games, 2013 Cal State at San Bernardino DisAbility Sports Festival, 2013 Valor Games Southwest, and 2013 Metal & Muscle Clinic and Expo.
Page last updated 10:39 AM, November 16, 2016