University unveils new Institute for Women's Leadership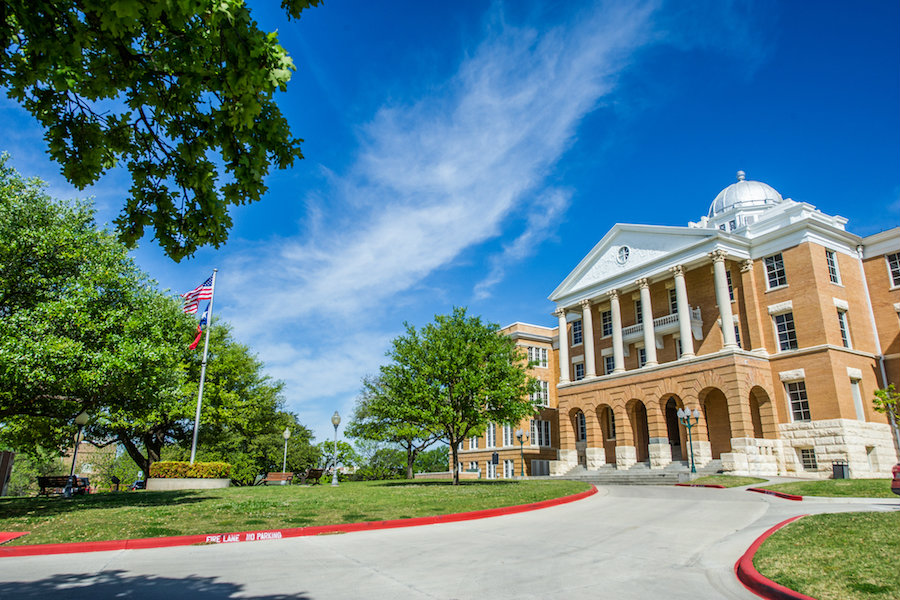 May 17, 2018—DENTON, Texas—Texas Woman's University officials today announced plans to create a distinctive new Institute for Women's Leadership on its Denton campus that will encompass three focused centers on the large second floor of Old Main, the university's first building (1903). Construction will begin this fall, with move-in slated for summer 2019.
The Institute's three centers are aimed at inspiring more women to run for political office, to become successful entrepreneurs and C-Suite executives, and to gain professional leadership skills and experience. The new Center for Women in Politics and Public Policy will join TWU's existing Center for Women in Business and Center for Student Leadership as part of the new Institute.
The Institute for Women's Leadership also will include a new high-tech interactive exhibit that chronicles the state's female political leaders and provides important online research for visitors, residents, scholars and students. Richard McWalters, former director of museum operations at the National Geographic Museum in Washington, D.C., is consulting with SBL Architecture to create this 3,200 square-foot exhibit space.
"We are proud that our Texas governor and Legislature continue to support TWU's distinctive role as the nation's largest university primarily for women," said Chancellor Carine M. Feyten. "This new institute will draw upon the legacy of the many women who have a record of leadership in the Lone Star State, and help us attract and enable a much larger cadre of women leaders to further advance Texas' economy, quality of life and health, and engaged citizenry. It also will guide leadership development opportunities for our students."
Retired Air Force Maj. Gen. Mary Saunders, a TWU alumna, will lead the new Institute, which has received $7.2 million in state start-up funds and a $2 million gift from Sue Schrier Bancroft and her husband Christopher. Regent Nancy Paup and her husband Ted also have given $250,000 for a special Institute lecture series.
In addition, two dozen of Texas' top female leaders in business, politics, finance, education, law, real estate and communications have stepped forward to serve on the Institute's advisory council chaired by Bancroft.
Bancroft, known for her community leadership in education and the arts, was principal bassoonist with the Dallas Opera Orchestra and performed with the Dallas Symphony, the Dallas Ballet Orchestra and other orchestras around the country. The retired professor also has served as president of the Argyle Independent School District Board, the Texas Winds Musical Outreach and the Festival Ballet of North Texas. She was appointed by the Governor to the Texas Commission on the Arts and the Texas Gifted and Talented Commission, and has been a member of the Dallas Symphony Orchestra Board, the Cliburn Competition Board, the TCU Board of Visitors and the Greater Dallas Youth Orchestra Advisory Board.
Saunders added, "We anticipate this high-powered advisory council will raise both awareness and opportunities for women to lead and excel in many sectors across our great state. Our Institute joins other centers across the country with similar missions, and we all look forward to advancing the women's leadership nationally through collaboration, education, networking and research."
Saunders said the council members will meet twice a year to discuss programs, results, continued progress and planning.
"This group of dynamic women will provide significant direction for events, speakers, networking opportunities and research," she said. "In addition, their participation is critical in creating an extraordinary interactive environment for young Texans to learn about the contributions of women leaders throughout Texas' history."
Established in 1901, Texas Woman's University has campuses in Denton, Dallas and Houston. Known for its strengths in the fields of education, nutrition, business, the arts and sciences, and especially in the nursing and health care professions, the university offers undergraduate and graduate degrees in traditional, online and hybrid formats. Texas Woman's University is home to numerous important collections focused on women's leadership, including the Women Airforce Service Pilots (WASP) National Archives, the Texas Women's Hall of Fame, and the Texas First Ladies Historic Costume Collection.
###
Editor's Note: Members of the advisory council include:
Arcilla Acosta, president and CEO of Carcon Industries & Construction
Dolores Barzune, community volunteer
Charla H. Bradshaw, managing shareholder, KoonsFuller
The Honorable Elizabeth Ames Coleman, partner, Energy North America, LLC
The Honorable Myra Crownover, business owner and former Texas State Representative
The Honorable Maurine Dickey, vice president, Dickey's Barbecue Restaurants, Inc.
The Honorable Lee Gabriel, Justice, Place 7 of the Second Court of Appeals
Hilda Galvan, Partner-in-Charge, Jones Day Law Firm
Jennifer Waisath Harris, owner, JWH Communications
The Honorable Sarita Hixon, County Commissioner, Kenedy County, Texas
Trea Yip, CEO, TY Commercial Group
Lynn McBee, CEO, Young Women's Preparatory Network
Stacie Dieb McDavid, CEO, McDavid Investments
Sara Madsen Miller, COO/co-owner, 1820 Productions
Neena Newberry, president, Newberry Executive Solutions
(Ex-Officio) Nancy Painter Paup, Regent, Texas Woman's University
The Honorable Betsy Price, Mayor of Fort Worth
Rienke Radler, Commissioner, Governor's Commission for Women
Jean Stuntz Ph.D., Professor of History, West Texas A&M University
Carla Thompson, Senior Vice President-Wealth Management, UBS Financial Services Inc.
Roslyn Dawson Thompson, president & CEO, Dallas Women's Foundation
Fran Vick, retired publisher and author
The Honorable Laura Wheat, Mayor of Westlake
Bios of these distinguished advisory council members can be found on the Institute for Women's Leadership website: twu.edu/institute-womens-leadership.
Page last updated 11:15 AM, April 22, 2021