TWU's Little Chapel-in-the-Woods receives national recognition
TWU's Little Chapel-in-the-Woods. Photo by Michael Modecki, University Photographer.
Anyone who has spent time in Denton has likely heard about the Little Chapel-in-the-Woods at Texas Woman's University. Now it seems that other people are also taking a renewed interest in this campus gem.
In December, the Little Chapel was included in a list of Texas's top architectural sites compiled by "Curbed," and it was just listed as a 2018 Couples' Choice Awards® Winner by WeddingWire, a popular wedding planning website.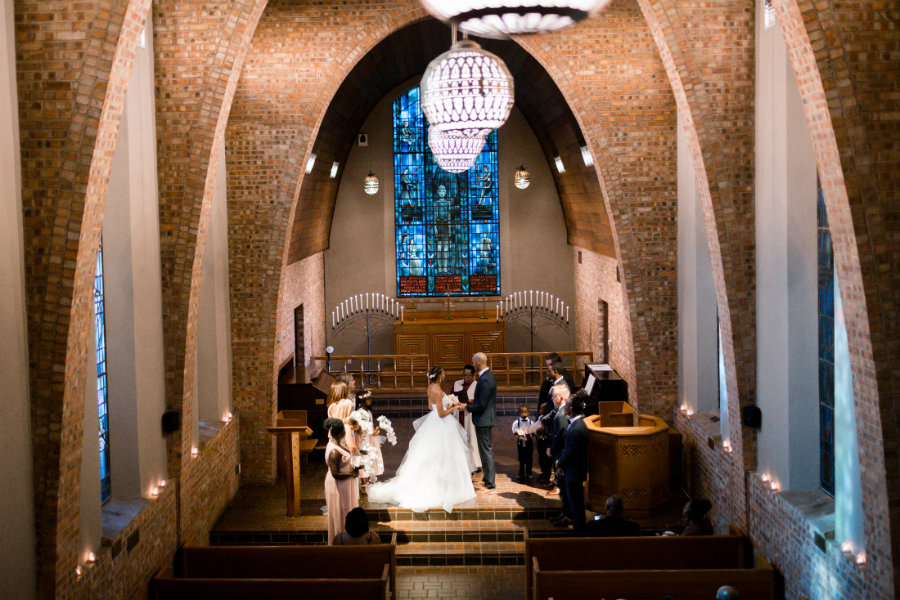 According to Maria Herrera, coordinator of conference services at Texas Woman's, system-wide improvements have factored into the equation.
"Event coordinators have undergone extensive customer service training, and we have modernized our marketing and scheduling in order to enhance the wedding day experience for our customers," said Herrera.
The WeddingWire Couples' Choice Awards recognize the top five percent of local wedding professionals and venues on WeddingWire that demonstrate excellence in quality, service, responsiveness and professionalism. Winners like the Little Chapel are selected solely based on reviews from newlyweds.
"The WeddingWire award really is a testament to the work of the staff under the leadership of Maria Herrera and her attention to detail," said David Sweeten, director of student union and conference services at TWU.
Built in 1938 and designed by famed Texas architect O'Neil Ford, the chapel features parabolic arches, stained glass windows and a rich history that adds to its charm.
"When the chapel was dedicated in 1939, First Lady, Eleanor Roosevelt spoke at the ceremony, which was broadcast to the region on WFAA radio," said Herrera. "More than 300 students and faculty helped to construct components of the chapel, including the windows that symbolize women ministering to human needs."
That history, characterized as a "highlight of Ford's career," is part of what prompted the inclusion in "Curbed," a blog that has focused on homes, architecture, interior design, cities and neighborhoods since 2004.
Originally conceived as a space for meditation and interdenominational prayer, the Little Chapel-in-the-Woods continues to serve as a testament to Ford's illustrious career as well as a popular wedding space.
For additional information on booking and rates, visit the Little Chapel-in-the-Woods blog or call 940-898-3644.
Media Contact
Amy Evans
Director of Student Life Communications
940-898-3607
aevans18@twu.edu
Page last updated 12:07 PM, May 17, 2018