TWU to celebrate beloved statue's 'birthday'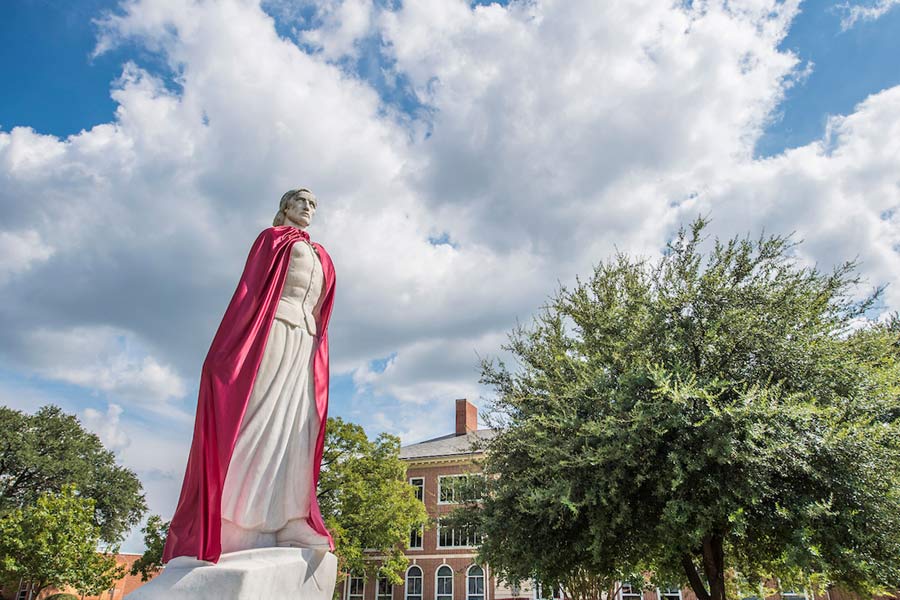 Nov. 28, 2018 - DENTON - She wears it well.
For the past 80 years, the Pioneer Woman statue at Texas Woman's University — affectionately known as Minerva (the Roman goddess of wisdom) by TWU students — has faced both blazing heat and ice-cold winds, not to mention social and political change. Yet, looking westward with a solemn gaze, she appears unruffled by it all.
TWU will honor its beloved Minerva with a birthday party from noon to 1:30 p.m. Thursday, Dec. 6 on Pioneer Circle. (Rain location is the Ann Stuart Science Complex lobby.) The event will feature birthday cake, music, and a giant card for guests to sign. The first 200 guests will receive a special gift.
The statue was dedicated Dec. 5, 1938 as part of the Texas Centennial celebration. Carved out of Georgia white Cherokee marble, the 15-foot-tall statue cost $25,000 and took about three years to complete. She stands on a 22-ton base inscribed with the words of Jessie H. Humphries, associate dean of what then was the Texas State College for Women:
Marking a trail in a pathless wilderness, pressing forward with unswerving courage, she met each untried situation with resourcefulness equal to the need; with a glad heart, she brought to her frontier her homeland's cultural heritage; with delicate spiritual sensitiveness, she illumed the dullness of routine and the loneliness of isolation with beauty; and with life abundant and withal, she lived with casual unawareness of her value to civilization. Such was the Pioneer Woman, the unsung saint of the nation's immortals.
Minerva has for the past eight decades paid tribute to the spirit of the pioneer women of Texas, whether they were making inroads into professions traditionally held by men, becoming the first in their families to go to college or exploring new territories through research.
A symbol of courage, strength and spirit, the statue has inspired pioneer women of yesterday and today to always seek new frontiers. For more information on the history of the Pioneer Woman statue, visit twu.edu/happy-birthday-minerva/.
Media Contact
Staff Reporter
940-898-3456
Page last updated 11:01 AM, December 6, 2018