TWU student uses feminist scholarship, activism to create global change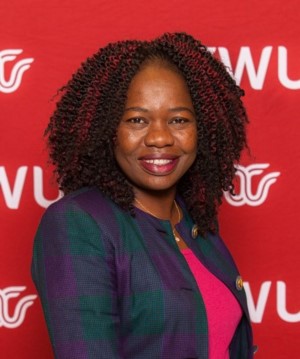 July 19, 2018 — DENTON— By the time Esther Ajayi-Lowo earns her doctoral degree from Texas Woman's University in 2021, she already will have amassed an impressive list of achievements. Since arriving at TWU in 2015 to study multicultural women's and gender studies, she has received two International Peace Scholarships from the Philanthropic Education Organization (PEO); published a book chapter chronicling the same-sex marriage prohibition act in Nigeria; and presented papers at national conferences on sexuality education, reproductive justice and female genital mutilation— all while balancing her personal commitments as a wife and mother to three young children.
Ajayi-Lowo's forthcoming doctoral dissertation will draw from her experiences as a scholar, activist, teacher and global citizen. She currently is investigating the impact of traditional birth attendants on reproductive justice in Nigeria in order to highlight the voices of Nigerian women, whose experiences and indigenous birthing knowledge may point to more culturally appropriate and locally sustainable policies and strategies to improve maternal health and reduce the maternal mortality ratio.
Academic Foundations
Prior to attending TWU, Ajayi-Lowo received the first-class honor for her bachelor's degree in philosophy from Obafemi Awolowo University and a master's degree in international law and diplomacy from the University of Lagos, Nigeria. In 2006, while working toward her master's, she received a United Nations' fellowship to attend the United Nations University's international courses in human rights and the United Nations systems in Tokyo, Japan, to learn how she could effectively translate the U.N.'s legal framework into human rights reform in Nigeria. Then, in 2008, she chaired the writing committee for the Nigerian Non-governmental Organization Coalition's shadow report on the government's implementation of the U.N. Convention on the Elimination of all Discrimination against Women.
While searching for doctoral programs in women's studies, Ajayi-Lowo came across TWU.
"The name Texas Woman's University first caught my attention because the idea of completing a Ph.D. in multicultural women's and gender studies from a primarily women's university was very appealing," said Ajayi-Lowo. "I felt it was the perfect place to give me a strong academic foundation that would complement my social justice activism."
"Professor Mark Kessler's research interests and teachings on rights, race, social justice, law, gender and sexuality also factored into my decision in choosing TWU for my doctoral degree. He has assisted me in developing my research interests, which exist at the intersection of gender, law, human rights and feminist theories."
According to Ajayi-Lowo, the TWU Multicultural Women's and Gender Studies doctoral program has since provided her with a holistic educational experience.
"TWU truly makes me stand out among the crowd with all of the opportunities I have been offered in research, leadership and teaching," she says. "The department and the support and mentorship of its faculty are the reason I can now describe myself as a scholar-activist-teacher."
International Peace Scholarships
In 2017, two years into her studies at TWU, Ajayi-Lowo was awarded her first International Peace Scholarships from the PEO. Prior to receiving the scholarship award of $12,500, she struggled with the task of financing her education while pursuing her goals in scholarship and activism.
"Once the PEO's scholarship removed the uncertainty of where tuition and fees came from, I was able to take on additional advocacy, educational, professional and leadership roles with success," said Ajayi-Lowo.
In addition to making all As in her courses during the award year, she presented papers at two conferences. She is now in in the process of editing these papers into an article that will be published in a scholarly journal. Her book chapter, "The Same-Sex Marriage Prohibition Act in Nigeria: A Critique of Body Policing", also was written during the award year, and will be published in The Politics of Gender this summer.
In the same year, she took on several leadership roles on the TWU campus: as a senator at the Graduate Student Council, as a mentor for an international student in the International Mentoring Program, and as the initiator and chair of the planning committee for a campus-wide panel discussion on reproductive justice for TWU students. She also created the Omoge Maktown Facebook group to mentor, support and motivate girls living in Makoko and Yaba areas of Lagos, Nigeria for career and professional success. As part of this initiative, she coordinates volunteers from Omoge Maktown for grassroots social justice advocacy programs.
This spring, Ajayi-Lowo received her second International Peace Scholarship for the 2018-2019 academic year and delivered a speech at the Texas State Chapter PEO Convention in May. She also was accepted into Syracuse University's highly selective Democratizing Knowledge Summer Institute. The institute met in June at Spelman College in Atlanta, Georgia, and Ajayi-Lowo had the opportunity to engage in conversations with top scholars and leaders of community organizations who are currently working to implement powerful social transformation within their communities.
Looking to the Future
"My contribution to democratizing knowledge and scholarship in the U.S. academy will be centered on the incorporation and validation of knowledge, scholarship and theories from women in the Global South. As part of my participation in the institute, I am developing a digital syllabus on transnational feminism that will contribute to existing scholarly materials on women from the Global South," said Ajayi-Lowo.
She looks forward to sharing the knowledge gained at the institute with the TWU Department of Multicultural Women's and Gender Studies by presenting her digital syllabus, which will become a database of teachable resource materials drawn from women activists and scholars in the Global South. The syllabus is aimed at aiding not only instructors in women's and gender studies scholars, but also in other fields of study across the U.S., enhancing curricula as well as teaching theories and practices at a national level.
Once she receives her Ph.D., Ajayi-Lowo plans to teach, research, publish and advocate for women's rights and development. She hopes to become a professor and aspires to provide research and consultancy services to local and international organizations, while continuing to engage in community-level activism on women's and social justice issues in the Global South.
###
Page last updated 9:17 AM, February 28, 2023