TWU Kinesiology student conducts unique, award winning research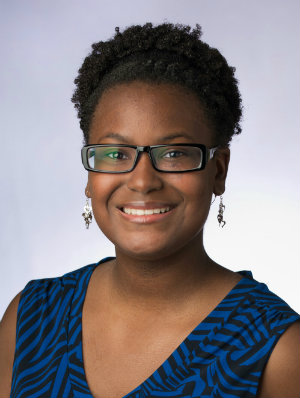 May 1, 2018 - As a Texas Woman's honors student, Ayana Georges (BS '18) knew she wanted to make a difference in the world of kinesiology. This prompted her to begin her award-winning research, which received top honors at the 2018 Great Plains Honors Council (GPHC) Conference held in March.
For her research, Georges compared athletic performance when people focus on different types of verbal commands. She examined results using three types of statements:
External, which focus attention away from the body ("jump as close to the cone as possible");
Internal, which focus on movement of the body ("extend your knees as quickly as possible"); and
Holistic, which focus on general feelings of movements ("make your movement feel explosive")
Studying the jump distances of 26 participants, she found the holistic approach just as effective as the external approach.
Previous research showed external focuses are more effective than internal ones. However, Georges' research is the first to consider the holistic approach. Practitioners can apply this alternative when personalizing instructions to help clients maximize and improve neuromuscular performance.
Georges said the Kinesiology department challenged her to apply her classroom knowledge to practical research while the TWU Honors program gave her the opportunity to present research at the GPHCC. TWU Kinesiology assistant professor Kevin Becker, Ph.D., who also was her honors mentor, steered Georges toward the research topic and showed her how to set up an appropriate experiment and carry out the research.
"When we got the results that we wanted, it was such a pleasant surprise and reminded me how worth it is to explore the unknown," Georges said.
Georges plans to continue her studying physical therapy in graduate school and hopes to continue researching the three movement focuses. She hopes to pursue a career in pediatrics or geriatrics.
Page last updated 9:17 AM, April 29, 2019