Senior Elementary Educ. Student and Gymnastics Champion, Schyler Jones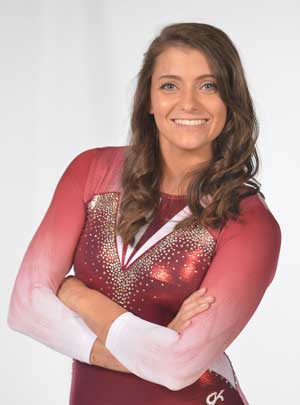 "It's all about time management," Schyler Jones said when talking about the balancing act that is her life as a scholar athlete at Texas Woman's University. As a Senior majoring in Elementary Education, Schyler maintains her schoolwork at an honors level, is a member of multiple student organizations and completes four hours of training five days a week as a member of the TWU award-winning gymnastics team, to name just a few of her many commitments.
Schyler is from Denton and at the age of three she started going to gymnastics class at a local club, taking after her older sister Spencer who was already training there. "We grew up watching gymnastics," Schyler commented. Her years in high school brought her multiple awards, 2010 Spirit Award, 2011 Hardest Worker Award, and 2012 and 2013 Leadership Awards. Schyler was able to share TWU gymnastics with her sister for one year while she was a first-year student athlete and Spencer was a senior.
When asked what drives her, Schyler said she feels she isn't necessarily the most naturally gifted gymnast, but that just drives her to work harder. That commitment to work hard has served her well as Schyler began her career at Texas Woman's University.
In 2015 Schyler competed in every meet as an all-around gymnast, repeating this feat in 2016. When asked about her routine for staying healthy and injury free she credits eating well, but as for the lack of injuries, "I guess it's just God looking out for me."
While she wasn't a fan of the vault when she was younger, the vault has since become her favorite event. "Sticking a vault landing is the best feeling ever." Not only was Schyler racking up high scores on the vault with a 9.925 career high, she was reaching for the perfect 10 in all her events with a career high on the bars of 9.800, and her career high on the beam and floor even higher at 9.900.
For the last three years she has earned great scores in the classroom too and was named a Midwest Independent Conference Scholar Athlete each year. Schyler mentioned that Coach Lisa Bowerman has high expectations for the athletes academically: "It's always student first, then athlete."
Throughout her time at TWU Schyler has loved the gymnastics camps and clinics that she has been part of that offered her an opportunity to work with children. Through her love for kids in general and how much she enjoys seeing them learn and grow, she relishes in passing on her passion for the sport to the next generation.
As the next gymnastics season gets underway in January Schyler will boldly complete her senior year in her customary style—driven and committed.
Like a true TWU Pioneer.
Story by Rhonda Ross, MA '11
Media Contact
Staff Reporter
940-898-3456
Page last updated 11:20 AM, October 1, 2021